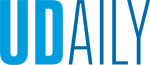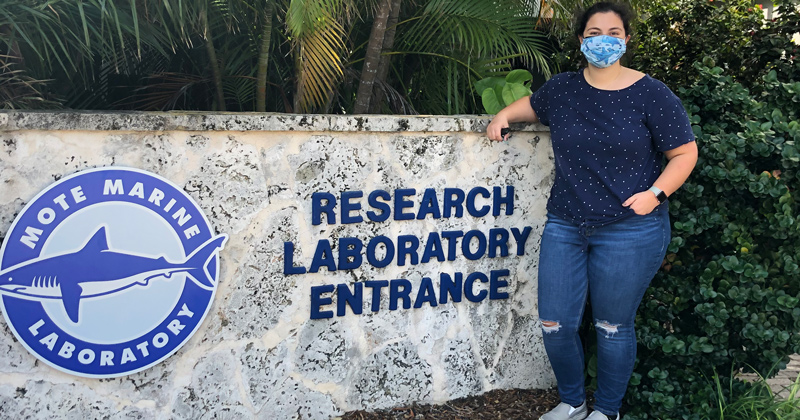 Interning during a pandemic
Article by Adam Thomas Photos courtesy of Rachel Roday and Mote Marine Laboratory May 19, 2021
UD undergraduate Rachel Roday reflects on in-person internship at Mote Marine Laboratory
Like many University of Delaware undergraduate students during the coronavirus (COVID-19) pandemic, Rachel Roday was disappointed throughout the year to find a lack of in-person internship opportunities. In her case, she was looking for internships that focused on her specific area of interest: eco-toxicology.
When the winter of 2020-21 approached, Roday decided that she didn't want to wait around any longer for the pandemic to end so she could start an internship. Luckily, she was able to find an in-person internship that fit her perfectly. She accepted an internship in the eco-toxicology program at Mote Marine Laboratory and Aquarium in Sarasota, Florida.
Roday, a senior honors student in the University of Delaware's School of Marine Science and Policy in the College of Earth, Ocean and Environment, said she felt her summer and fall were taken away by the pandemic and didn't want that to be the case with her winter.
"I was looking for any kind of experience," said Roday. "I really felt like I needed more lab experience before going to graduate school. I applied to marine science graduate programs, and looked up professors who were conducting ecotoxicology work. That was the actual line of research that I wanted to get into and this internship helped me explore that."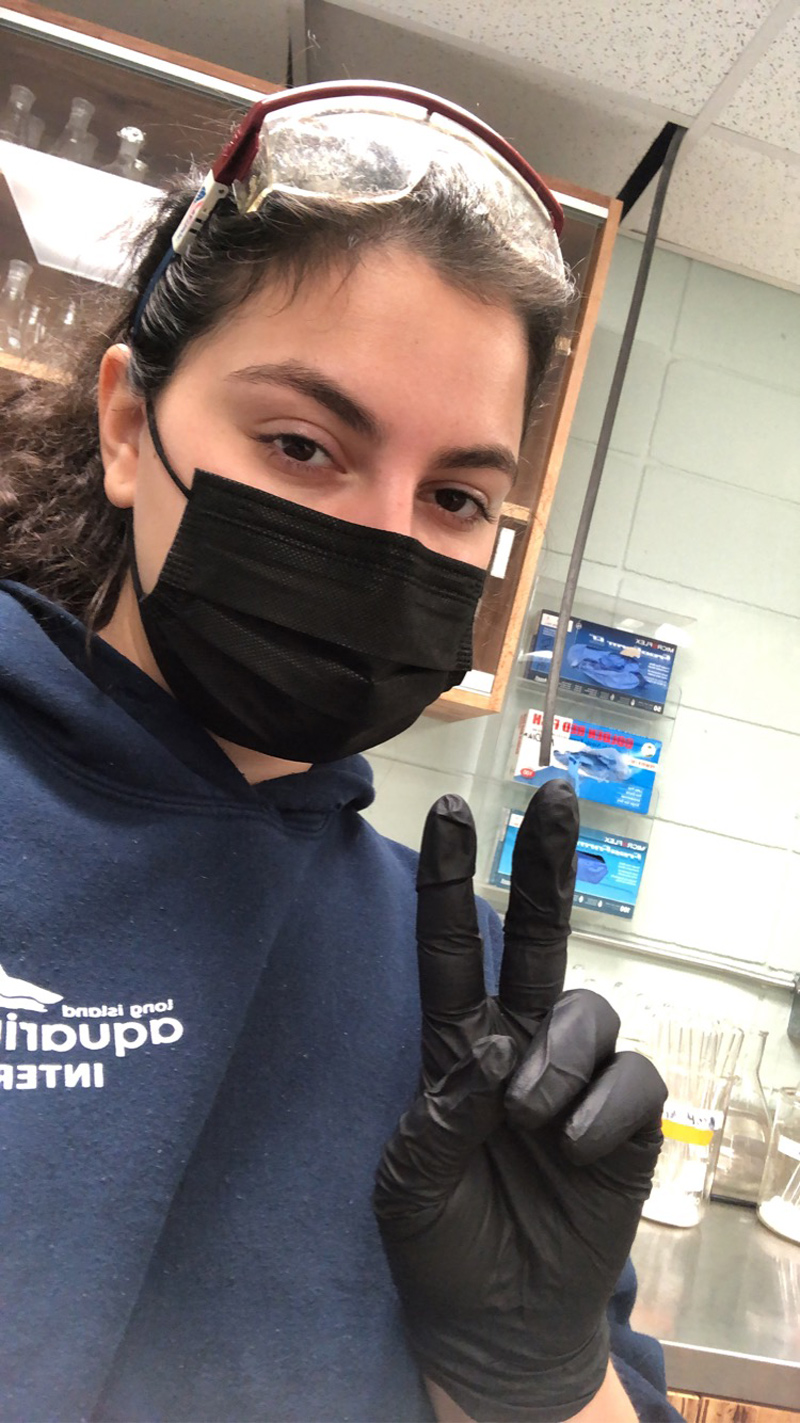 At Mote, Roday was part of an eco-toxicology program that conducts monitoring, research, development, and education around red tide, a phenomenon caused by certain algal blooms during which they become so numerous that they turn the coastal waters red. The group also looks at pesticides and other anthropogenic, or human-made, pollutants.
The internship began in late November, 2020 and so she had to start her internship while she was still finishing her fall classes at UD.
"Most of my UD classes were remote so I caught up on lectures at night and during the day, I went into the lab at Mote," said Roday. "It was completely in-person, 9 a.m.-5 p.m. every day. It was exhausting. Going from student to full-time work in a lab; it definitely took a lot of energy but it was totally worth it."
It ended 12 weeks later, just three days before the start of UD's 2021 spring semester.
Roday's role was helping Mote process beach samples to look for red tide toxins and to assist in research, investigating how red tide toxins affect coral and fish species.
Florida, especially the west coast of the state, has been inundated recently with red tides. A particularly harmful red tide bloom occurred between 2017-2018 and decimated the state's ecotourism and economy.
"People stopped traveling to Sarasota. It smelled awful and people were having respiratory issues," said Roday. "These toxins are volatile and they get into the air and cause severe sickness in humans. Mote and the Florida government have a large incentive to understand what is causing these harmful algal blooms and how they are impacting human and ecosystem health."
Every Monday during the internship, water samples would be collected from the local Sarasota beaches. Those samples would be run through various instruments that would eventually reveal the toxin peaks, and a Mote analyst would be able to read the amount of toxins.
Red tide produces three different toxins so Roday and the other researcher at Mote were looking for the different amounts of each toxin.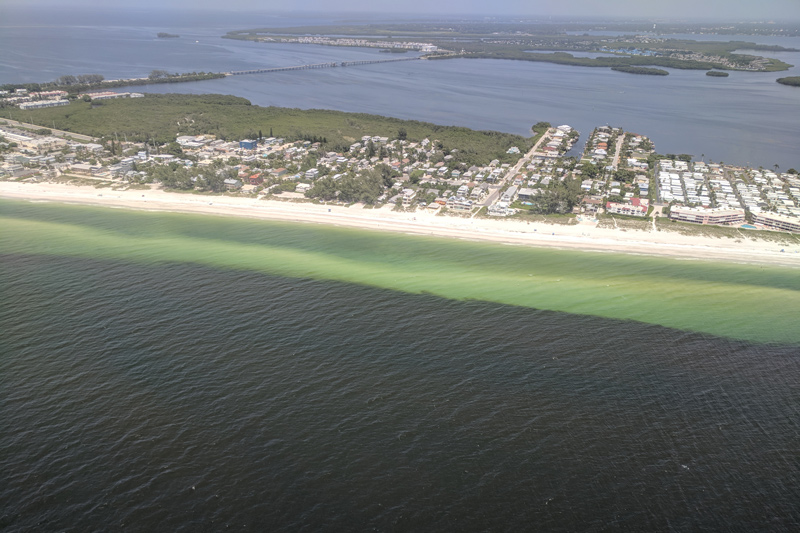 Roday, who has accepted admission to the University of Texas at Austin for graduate school, where she will study eco-toxicology in the marine environment, said it was beneficial to learn about the Florida ecosystem and red tide firsthand.
"It was great to get a chance to travel to Florida and live in Sarasota while studying red tide," said Roday. "I enjoyed being able to appreciate a new ecosystem and learn about the issues that are impacting it. I also got to do some scuba diving while I was down there so that was really fun because it was snowing in Delaware and I was scuba diving."
It wasn't all smooth sailing, though, and Roday admitted that having an internship during a global pandemic in another state was not without its challenges.
The hardest part was moving to live in another state during the pandemic. Because she didn't feel comfortable taking a plane, Roday drove down to Florida. She also found that it was particularly tough to be alone during the holidays.
"Celebrating the holidays alone with no one I knew was definitely isolating," said Roday. "I had to celebrate Hanukkah during finals week, which was the third week of my internship. There were several projects happening at Mote the first few weeks that I was there so I was really stressed and overwhelmed."
She did get a little bit of home back when her friend Gretchen Johnson, who works as a lab technician in the lab of Kathryn Coyne, associate professor of marine biosciences in UD's College of Earth, Ocean, and Environment, and director of the Delaware Sea Grant program, went to Mote.
"Gretchen has been doing work with red tide, trying to find an algicide that will kill a specific species so that scientists can later use the algicide in the field," said Roday. "Gretchen flew down and stayed with me for a week while conducting experiments at Mote. That was really cool because I got to see another collaboration between UD and Mote."
Overall, Roday said that she would encourage other undergraduates to participate in an in-person internship if they are comfortable doing so during the pandemic.
"For other people who are looking to get involved during a pandemic: if you try to create the opportunity and use your resources, you will be able to do anything you set your mind to," said Roday. "I was disheartened when I couldn't pursue a summer internship and so I thought, 'I need to do something.' I know a lot of students feel the same way. It is definitely possible to find an internship and other students shouldn't be discouraged."