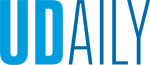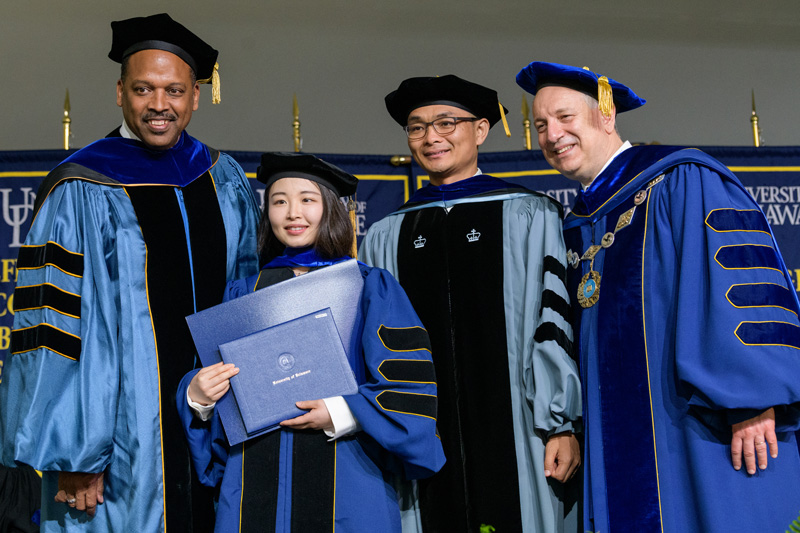 UD scholars win dissertation honors
Article by Karen B. Roberts Photos by Evan Krape and Kathy F. Atkinson May 31, 2019
Prizes showcase research spanning literature to osteoarthritis
Five graduating doctoral students received dissertation prizes at the University of Delaware's doctoral hooding ceremony on Friday, May 31.
Dissertations showcase a student's original contributions to their field of study and highlight the potential impact of their work to the world. Each year, several students distinguish themselves among their peers for exhibiting the highest scholarly excellence.
This year's honorees and their awards are Alexander Mironenko, Allan P. Colburn Prize in Mathematical Sciences and Engineering; Kristen DeMeester, Theodore Wolf Prize in Physical and Life Sciences; Mengxi Lv, Interdisciplinary Research Prize; Jessica Conrad Wilbur Owen Sypherd Prize in the Humanities; and Luye "Luna" Li, George Herbert Ryden Prize in the Social Sciences. Read on to learn about their work below.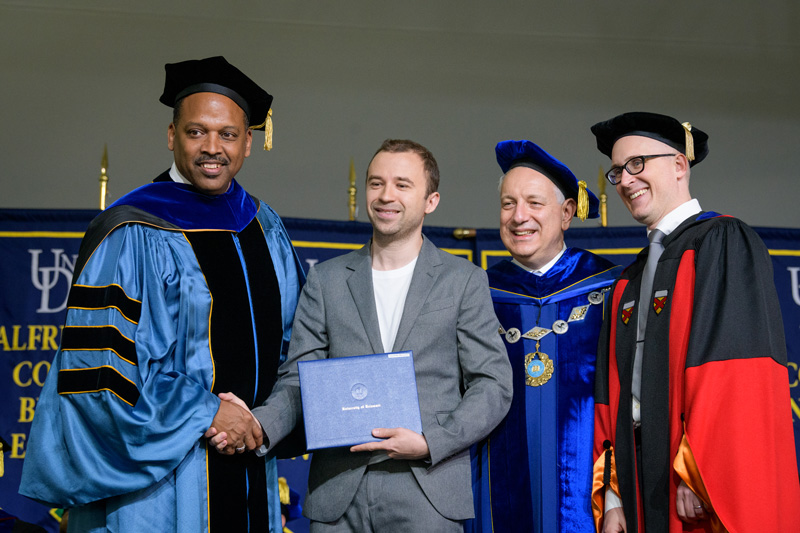 Allan P. Colburn Prize in Engineering and Mathematical Sciences
Alexander Mironenko won the Allan P. Colburn Prize in Mathematical Sciences and Engineering for his dissertation, Untangling Complexities of Selective Carbon-Oxygen Bond Activation Using Multiscale Modeling and Quantum Theory Development.
Mironenko's research focused on complex biomass transformation, specifically theoretical work aimed a discovering reaction pathways and catalytic sites involved in processes to upgrade biomass into useful chemicals and products. These molecular transformations are inherently complex with applications that extend beyond advanced biomass conversion to the broader fields of catalysis, renewable energy and computational chemistry.
Mironenko's theoretical work led to unique insights into many of the mechanisms responsible for accelerating these chemical reactions and new methods to predict catalysts more reliably, especially for metal oxide catalysis. New, better catalysts like metal oxides, for example, might make it easier to produce renewable everyday products like lubricants, fuels and adhesive tapes at low cost. Many of Mironenko's theoretical predictions were later confirmed experimentally.
Dion Vlachos, Mironenko's adviser and director of the Delaware Energy Institute, said: "Mironenko is an extremely hard working and intellectually gifted researcher who combines critical thinking, depth, breadth, innovation and creativity."
Eric Furst, chair of the Department of Chemical and Biomolecular Engineering, said: "It is a rare student who successfully leads such groundbreaking method development in the area of quantum mechanics — this naturally is the domain of advanced quantum physics and chemistry. Mironenko's success lies in his unique physiochemical insights, excellent mathematical skills and his ability to integrate apparently disconnected pieces of science into a single, coordinated, and ultimately sublime picture."
Furst further pointed out that Mironenko's contributions and discoveries played a crucial role in the renewal of UD's Department of Energy-funded center CCEI, as he effectively led a team of students and post-doctoral researchers toward the creation of a new research thrust.
Mironenko currently is the Kandanoff-Rice postdoctoral fellow at the University of Chicago.
Theodore Wolf Prize in Physical and Life Sciences
Kristen DeMeester was awarded the Theodore Wolf Prize in Physical and Life Sciences for her dissertation, Synthesis of Bioorthogonal Muramyl Glycans That Illuminate and Track Bacterial Peptidoglycan.
DeMeester's research centered on peptidoglycan — a polymer made of sugars and amino acids that forms the cell walls of bacteria. Her work resulted in a method that allows this polymer to be labeled like a flashlight, advancing research into how the human immune system functions.
All bacteria contain peptidoglycan, but human cells do not. Our immune system uses fragments of this polymer to recognize and respond when bacteria are present. When beneficial bacteria are misidentified as being harmful, however, chronic inflammatory diseases such as asthma and Crohn's disease can arise.
"The work that Kristen has completed is extremely remarkable and important," said Catherine Leimkuhler Grimes, DeMeester's adviser and assistant professor of chemistry and biochemistry. "She has significantly impacted the fields of immunology and microbiology."  (DeMeester was unable to attend the ceremony, so Grimes accepted the honor on her behalf.)
Brian Bahnson, chair of the Department of Chemistry and Biochemistry, said DeMeester's dissertation "represents the very best of our department and the University of Delaware."
Joseph Fox, professor of chemistry and biochemistry, pointed out that DeMeester's work already is in use by 20 groups globally — at Yale, Harvard, Fred Hutchinson Cancer Institute and the Institut Pasteur, among them. She also helped found UD Women in Chemistry, which has created career development and mentoring programs for women in the fields of science, technology, engineering and math (STEM).
James Taylor, executive director of Gilead Sciences, said: "DeMeester is a rising star in the field of chemical biology and I look forward to seeing the great achievements she has ahead of her."
DeMeester leaves UD for a postdoctoral fellowship at Scripps Research Institute.
Interdisciplinary Research Prize
Mengxi Lv earned the Interdisciplinary Research Prize for her dissertation, Cellular Mechanism and Bioinformatics Analysis of Statin as a Therapeutic Intervention for Osteoarthritis.
Lv's research focused on the use of statins, a class of drugs typically used to control cholesterol and cardiovascular disease, as a therapeutic for osteoarthritis (OA) prevention. OA is a leading cause of disability in the United States that affects over 30 million adults. Traumatic joint injury can increase the risk of OA, and no medicine currently exists to treat injured joints.
Through a collaboration with Christiana Care Health System, Lv analyzed patient data to understand the impact statin use had in OA occurrence among Delaware patients. Her study showed that statins significantly reduced joint osteoarthritis occurrence. Subsequently, molecular- and cellular-level experiments by Lv revealed that the "joint-favoring" effects of statins occurred by inhibiting a fundamental metabolic pathway and its downstream signaling mechanism.
"Lv's work has an immediate impact on the 40 million statin users in the U.S. and may lead to the first pharmaceutical solution for osteoarthritis prevention," said X. Lucas Lu, her adviser and associate professor of mechanical engineering. Lu also called Lv's dissertation "truly interdisciplinary" for its wide-ranging work crossing multiple fields, including epidemiology, tissue engineering, molecular biology, genetics and mechanical engineering.
Cathy Wu, director of the Data Science Institute, said: "Lv's dissertation project has led to novel bioinformatics, statistical analysis and data interpretation highlighting a potential biologically-driven solution using a statin therapy." She noted that Lv has published work in prestigious journals, including Scientific Reports and Journal of Orthopaedic Research.
Zugui Zhang, director of biostatistics at Christiana Care Health System, pointed out that Yv's work "could set up guidance for future clinical trials" and provides "critical justifications regarding the application of statins for post-traumatic osteoarthritis (PTOA) prevention."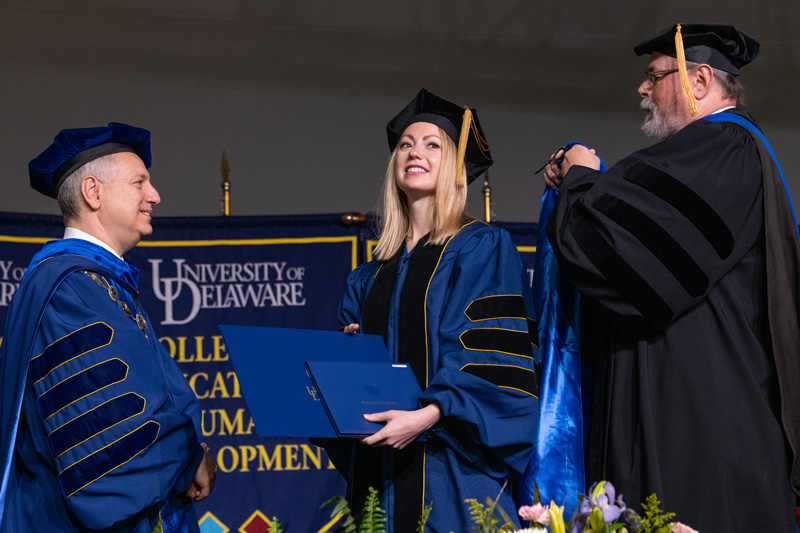 Wilbur Owen Sypherd Prize in the Humanities
Jessica Conrad received the Wilbur Owen Sypherd Prize in the Humanities for her dissertation, Boycott: Literary Interventions in the American Marketplace, 1820-1880. In this work, Conrad showed how activists of the 19th century used printed materials to disrupt the marketplace and achieve strategic political reform.
Conrad explored literature — pamphlets, periodicals, poems, novels, cartoons — that challenges its readers to recognize their power as consumers and more carefully align their wallets with their values. Conrad wrote that for women and people of color, such works of the 19th century represented "an ever-hopeful quest for long-denied political autonomy."
Conrad made the case that boycotts are an American tradition, not a modern phenomenon, and they are "a major mode of dissent, especially for disenfranchised or politically marginalized groups."
John Ernest, the Judge Hugh M. Morris Professor and chair of the Department of English, called the dissertation "stunning" and said Conrad "models a way of thinking about literature as a mode of investigation — an entrance into a complex cultural history rather than an artifact of the literary past."
Martin Brückner, English professor, director of the Center for Material Culture Studies and Conrad's adviser, called the work "intellectually innovative and rigorous." He noted that one chapter of Conrad's dissertation already has been published by the journal American Literature and a second has been solicited for publication in a collection of essays.
Anne M. Boylan, professor of history (emerita) said Conrad's central argument "will energize and excite literary scholars" and her approach to the work "is both new and generative and represents the leading edge of a fresh approach to texts both familiar and obscure."
Patricia Crain, professor of English at New York University, said Conrad's work is a "significant contribution to U.S. literary and cultural history" with its "ambitious sweep, innovative research, original literary archive and subtle and far-reaching conclusions."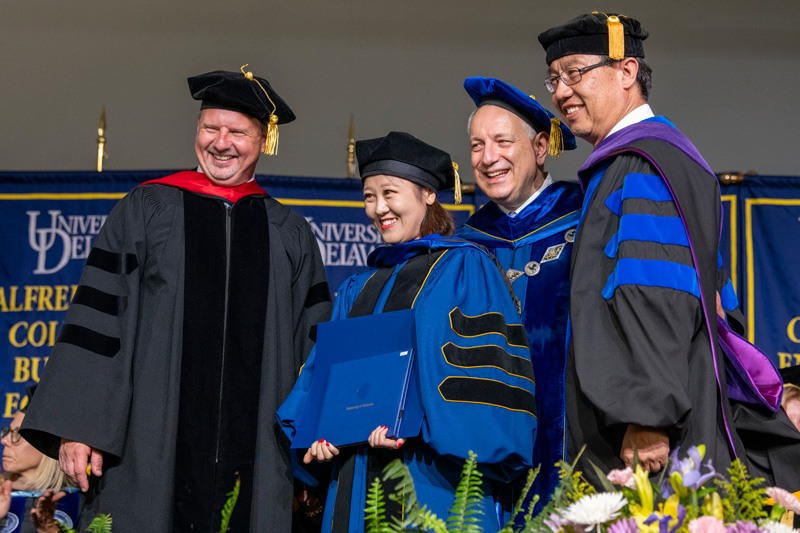 George Herbert Ryden Prize in the Social Sciences
Luye "Luna" Li received the George Herbert Ryden Prize in the Social Sciences for her dissertation, Procedural Justice and Police Legitimacy: Untangling the Effects of Race/Ethnicity-Based Situations and Organizational Characteristics of Police Agency.
In her work, Li analyzed the role that the race and gender of officers and citizens played in how the public viewed police behavior and legitimacy. She also delved into the previously understudied effects of police organizational factors, such as policing strategies and internal supervision and treatment of officers, on public attitudes toward police.
Her findings showed that black civilians were less likely to perceive the police to be procedurally just and legitimate than white civilians, a perception that widened in encounters involving black civilians and white officers. Meanwhile, Hispanic civilians perceived white officers to be more legitimate, compared to their white civilian counterparts.
According to her dissertation chair Ivan Sun, professor of sociology and criminal justice, policing in the United States is at a crossroads and street-level enforcement is increasingly challenged and questioned due to deadly police-public encounters. Li's findings "shed direct light on the 'problematic' combinations of race and gender in police-public encounters."
"Luna's project is exceptionally important as it bears close relevance to highly debated public policy and practice, especially during the post-Ferguson time of American policing when issues of race, crime, social justice, police legitimacy and domestic governance are sophisticatedly intertwined," said Sun.
Importantly, Li's results furnish specific directions for research and valuable knowledge that can be leveraged to effect policy, police-community relations and crime prevention.
Karen Parker, chair of sociology and criminal justice, called Li's dissertation "a truly innovative effort" and said Li is "well on her way to making important contributions to the policing literature and the field of criminology/criminal justice."