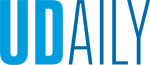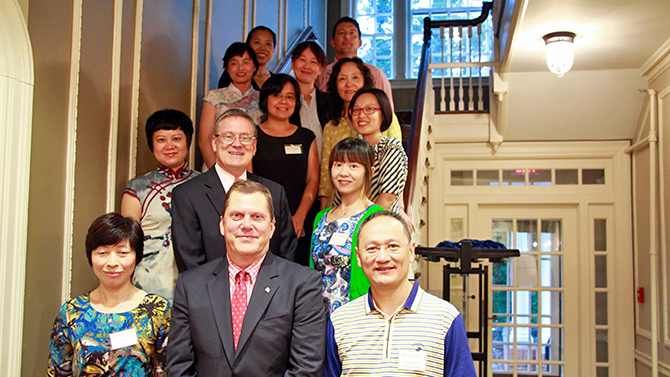 Sichuan delegation visits
Article by Ann Manser Photo by Nikki Laws July 20, 2016
Chinese university explores partnerships with UD's English Language Institute
Sichuan International Studies University (SISU), a top institution in southwestern China specializing in foreign language education and global studies, is exploring possible collaborations with the University of Delaware.
With 20 SISU faculty members already attending a four-week program at UD's English Language Institute (ELI), a delegation of administrators and other representatives arrived on campus this week to learn more about the University and the ELI.
The faculty members enrolled in the institute's program — who are studying the English language and pedagogy, observing some UD classes and staying with host families — make up the first group from SISU to attend the ELI.
The faculty members represent various departments and disciplines, said Chuanfang Zeng, dean of SISU's College of International Education and College of Continuing Education and director of its Training Center for Overseas Study.
She spoke at a July 18 reception at UD, giving a brief overview of her university and expressing hope for additional engagement with UD in the future.
"We aim to cultivate professionals in foreign languages and international relations," Zeng said. "We have many partnerships with other universities … [and] we hope we have many opportunities for cooperation" with UD.
Offering bachelor's, master's and doctoral degrees, SISU is well-known for its strong programs in foreign language education and its highly qualified faculty, most of whom have studied abroad, she said. The university, which is also a research center, is in Chongqing, China's fourth-largest city.
George Watson, dean of the College of Arts and Sciences, welcomed Zeng and the other members of the delegation to UD, noting that the universities have similar interests in international education.
"Our two institutions share a common goal of preparing our graduates to understand the world around them, develop foreign language skills and learn from other cultures — in short, to graduate global citizens," he said.
UD actively fosters international collaborations in research, scholarship and education, he said, not only encouraging UD students to study abroad but also welcoming students from other countries to campus for short-term or longer programs.
"Like Sichuan International Studies University, Delaware's mission encompasses the world," Watson said. "Given our intersecting interests, my hope is that we can explore a number of opportunities for collaboration."