The Future of Working at UD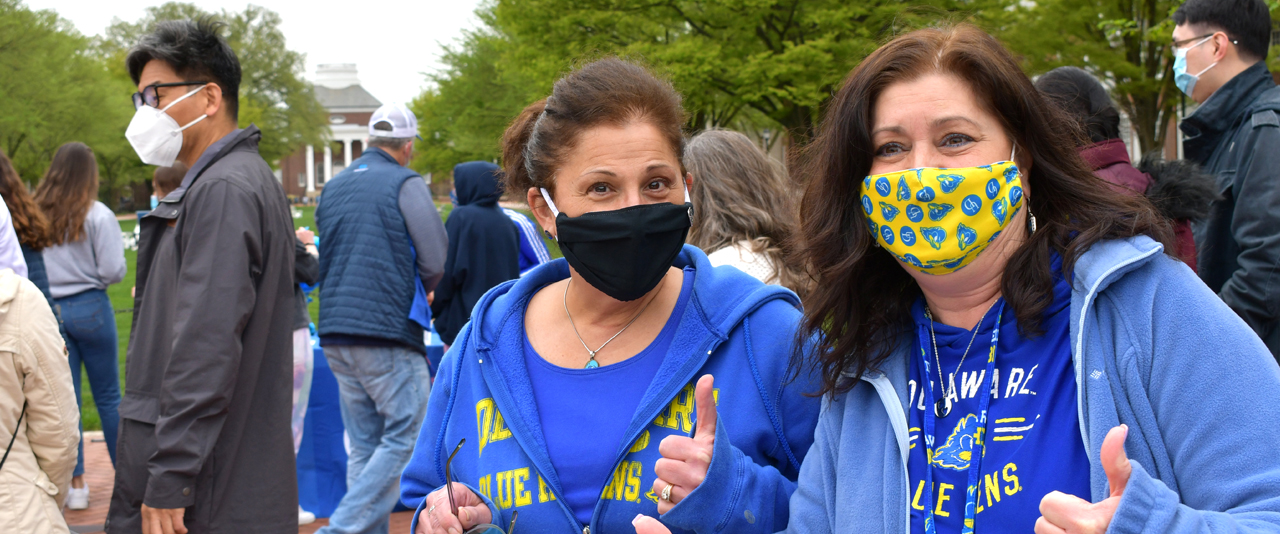 The Future Of Working at UD
Town Hall Scheduled for June 24
Due to unforeseen circumstances, the virtual town hall on "The Future of Working at UD," originally set for Thursday, June 10, has been rescheduled to June 24 at 2:30 p.m.

If you have already registered to attend, your registration will be valid on the new date. If you have not yet registered, you can register below. Zoom attendance is limited to the first 1,000 participants. If you are unable to register, you may still watch the forum on UD Live. For those unable to attend on the new date, the town hall will be archived for viewing on this webpage.
The demands of the COVID-19 coronavirus pandemic brought many changes to our community. Now, as the cases of COVID-19 are declining nationally and we are able to move to the next stage, the Future of Working at UD is in our hands. We must take care to incorporate the lessons we learned in a thoughtful and productive way so that we can strategically enhance our operations, recognize what people find valuable and need right now, and re-define the way we work individually and in teams.
Your input as we shape that path forward is invaluable, and I invite you to take part in a virtual town hall on "The Future of Working at UD" at 2:30 p.m., Thursday, June 24, 2021. As we prepare for this town hall, we welcome your questions and ideas.
The Future of Working at UD town hall will also be availabe on UD Live, please feel free to drop in at 2:30 p.m., Thursday, June 24, 2021.
The Future of Working at UD
As we move forward, UD people will be at the center of all our efforts. We will continue to process what has happened over the past year, to listen and potentially to implement revised and new benefits.
Your insights and discussions will be invaluable to arriving at the best outcome. Our goal is to include as many voices as possible, to respond in a measured, thoughtful way and to be transparent with this community through our communication.
Watch this space for updates on The Future of Working at UD.
CORONAVIRUS INFORMATION AND RESOURCES

Looking Back to Look Forward
At UD, our people are linked inextricably with our values. These words resonate now more than ever as we come off the heels of a challenging 2020 and begin to see the rewards of our employees' hard work throughout 2021. These milestones could not have been achieved without the tireless efforts of UD faculty and staff. Take a look at our Milestones from 2021. At the end of the timeline, please help us by filling out a brief survey
Building a people centered culture
All-Access Membership Registration is Now Open

Registration is open for employees, spouses and retirees to renew or purchase Employee Health and Wellbeing's 2021-2022 All-Access Membership (AAM) to enroll in our programs throughout the fiscal year (July 1-June 30), including fitness classes, cooking classes, Walktober, discounted personal training services and other campus wide campaigns.
Blue Hen Heroes
At the height of the COVID-19 pandemic, it felt like the world had come to a stop, but these employees persevered to keep the UD community up and running. This monthly segment on Working at UD highlights our Blue Hen Heroes who are working diligently each day to create and maintain safe spaces for us all, while continuing to meet challenges of protecting the flock. Do you know a team who has been demonstrating UD values, commitment and spirit? Nominate them for the Blue Hen Hero segment here.

The amazing UDIT-ATS team has worked nights, days and weekends throughout the pandemic to support faculty in their pivot to online teaching…and now, the pivot to hybrid course delivery methods. This creative and expert team researched, deployed and documented new tools and services to ensure that faculty had access to the very best capabilities to ensure high quality learning experiences for UD's students.

- Sharon Pitt,
Vice President for Information Technologies
Since the outbreak of the pandemic, the employees of the Division of Student Life have been on-campus, fully remote and everywhere in between.  Centered on our students' needs, we are driven to take the many learnings of in-person, hybrid, flex and remote working from the past year and make strategic decisions to optimize our work modalities.  We will leverage a diverse range of work modalities to continue attracting the very best talent to UD as we seek to advance equity and inclusion, drive holistic development and deepen student learning!
- José-Luis Riera,
Vice President for Student Life
Starting a new job in these unique times has been both challenging and rewarding. I have been remote for nearly a year, my coworkers have been welcoming, patient and willing to share their knowledge, all of which I sincerely appreciate. With Zoom and Teams, I was able to meet with my manager and coworkers "in person" and participate in meetings, townhalls and Wellbeing programs. I look forward to working on and being campus, and meeting employees that I have worked for the past year. Other employees have told me about the "Campus Vibe" and though I do not doubt there will be changes, I hope that "Vibe" still exists.
- Erin Marchlik,
Compensation Analyst