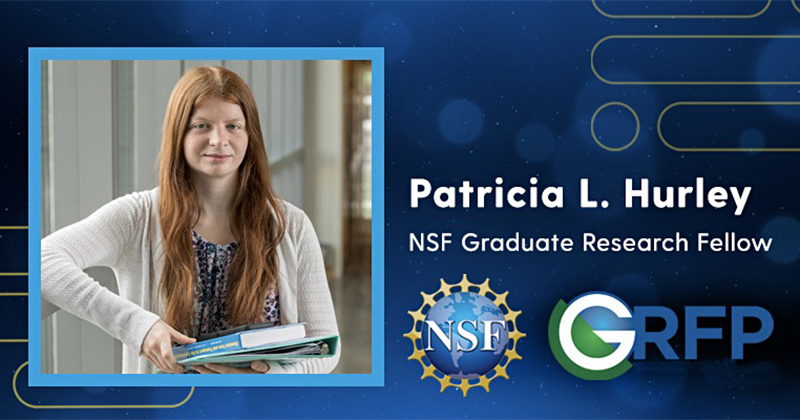 NSF Graduate Research Fellows: Patricia Hurley
May 24, 2020 Article by Adam S. Kamras | Graphic by Cindy Dolan
Meet the NSF GRFP recipients – Patricia L. Hurley
A first-generation college student, Patricia L. Hurley is pursuing her doctorate in civil engineering with a concentration in environmental engineering at UD. She plans to study the fate of macrolide antibiotics in septic tank systems with the goal of finding out if concentrations of these compounds are high enough to threaten nearby groundwater supplies, which may be used as sources of drinking water, and learning if sorption plays a role in attenuation of these compounds.
"I have always enjoyed learning about the environment and decided to study environmental engineering with the intent of solving environmental challenges," said Hurley. "I chose my research topic because it can have an impact on both human health and environmental health. Through my studies, I have learned that septic tank contamination is an issue, and I hope that I can use what I learn from this project to help educate the public about water pollution."
Along with UD's Center for Counseling and Student Development, Hurley is grateful for the support and encouragement she has received from her Department of Civil and Environmental Engineering lab mates and her advisor, Yu-Ping (Yo) Chin, professor of civil and environmental engineering.
"Dr. Chin guided me through the process of applying for the fellowship and has helped—and continues to help—me gain the skills I need to pursue my research," said Hurley. "He has been crucial to my success at UD, for which I am very thankful."
Prior to enrolling at UD, Hurley earned her bachelor's degree at Rowan University and credits Kauser Jahan, Rowan professor of civil and environmental engineering, for inspiring her to apply to graduate school and pursue research in environmental engineering. A member of the student chapter of the Delaware Section of the American Water Resources Association, Hurley received Rowan's Ralph Alan Dusseau Medallion Award and UD's George W. Laird Merit Fellowship.