The School of Nursing offers a program for licensed Registered Nurses who want to earn their BSN degree. The RN to BSN is offered 100% online in seven-week sessions.
The School of Nursing has been providing distance education since 1993 both locally and globally. The faculty are skilled in delivering quality courses using online technology including video lectures, asynchronous discussion groups and real-time face to face discussions between faculty and students.
The innovative program provides the preparation necessary for continued graduate education success. The curriculum is created to further develop students' scholarly writing skills, leadership skills, research knowledge, and use of evidence-based practice to provide a growth experience for the actively practicing registered nurse.
Students have access to all campus resources including an online library with retrievable full text articles. Courses are provided Fall, Winter, Spring and Summer sessions providing year-round learning opportunities.
Think you may be interested? Take the first step and complete an unofficial transcript evaluation today! Cost is free and results mailed quickly. An advisor will follow up with you to discuss your personal curriculum plan. Click on the Unofficial Transcript Evaluation button for details. For more information- click here
The School of Nursing awards a BSN degree after completion of 120 credits of prescribed coursework. A 2.5 cumulative GPA is required of all previously attended colleges
59 transferable non nursing credits
31 credits of baccalaureate-level nursing
30 credits awarded for your current RN licensure
IMPORTANT NOTE: The University of Delaware is required to comply with state and federal laws regarding the delivery of distance education.  Please see the University's State Authorization page for more information.
ADMISSIONS FOR THIS PROGRAM ARE HALTED INDEFINITELY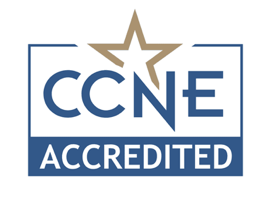 The baccalaureate degree program in nursing, master's degree program in nursing, Doctor of Nursing Practice program and post graduate APRN certificate program at the University of Delaware are accredited by the Commission on Collegiate Nursing Education (http://www.ccneaccreditation.org).