The Accelerated BSN Program is for individuals who have obtained a baccalaureate degree, in another field, and wish to pursue a Bachelor of Science in Nursing (BSN). This is a full-time, 17-month, on-campus nursing curriculum. Students are admitted once a year with students starting each winter session.   
ADMISSION REQUIREMENTS 
3.0 GPA or higher in your previous baccalaureate degree.

Prerequisite science GPA and rigor is of importance and preference is given to those course credits obtained from a four year college of university.

University Requirements:

ENGL 110 (C- minimum) (3 credits)
Multicultural Requirement (3 credits)
UD Breadth Requirements (C- minimum)

Creative Arts and Humanities (3 credits)
History and Cultural Change (3 credits)
Social and Behavioral Change (3 credits)
Mathematics, Natural Sciences, and Technology (3 credits)

Science Requirements (Human Anatomy and Physiology courses must be completed within 5 years of admission and other science requirements must be completed within 10 years of admission)

General Biology with lab (4 credits)
Human Anatomy and Physiology (6 credits)
Microbiology with lab (4 credits) 
Bioorganic Chemistry (4 credits)
Nutrition (3 credits)
General Psychology (3 credits)
Statistics (3 credits)
Research Methods (in healthcare preferred) (3 credits)
** The university requires a minimum grade of C- for transfer credit. Use this link to help you determine transferability of courses
** All sciences MUST have been complete in the last 10 years and Human Anatomy and Physiology in the last 5 years.
Deadline for submitting application materials for the Accelerated BSN program:
For winter admission, the deadline is July 1.
Program and curriculum information/requirements are subject to change.
IMPORTANT NOTE: The University of Delaware is required to comply with state and federal laws regarding the delivery of distance education.  Please see the University's State Authorization page for more information.
 

First Year

Second Year

Winter

NURS 233 Professional Nursing Practice (3)
NURS 234 Professional Nursing Practice Lab (1)
NURS 120 Introduction to Population Health (Service Learning)(3)
Total Credits = 7

NURS 428 Maternity Nursing (3)
NURS 429 Maternity Nursing Practicum (3)
Total credits = 6

Spring

NURS 243 Pathophysiologic Foundations (4)
NURS 246 Family Health & Wellness (3)
NURS 247 Family Health & Wellness Practicum (1)
NURS 263 Health Assessment (3)

NURS 264 Health Assessment Lab (1)
NURS 322 Pharmacology Across the Lifespan (3)
NURS 330 Clinical Learning Lab (2)
Total credits = 17

NURS 375 Nursing Care of Adults II (3)
NURS 438 Leadership in Professional Practice (3)
NURS 448 Clinical Reasoning (3)
NURS 475 Nursing Care of Adults II Practicum (3)
NURS 485 Integrative Practicum – Capstone (3) 
Total Credits = 15

Summer

NURS 365 Nursing Care of Adults I (3)
NURS 353 Nursing Care of Adults Practicum I (4) 2nd session
NURS 411/412/414 (3)
Total credits = 10

 

Fall

NURS 335 Psychiatric Mental Health Nursing (3)
NURS 355 Psychiatric Mental Health Nursing Practicum (3) 
NURS 337 Nursing Care of Children (3)
NURS 357 Nursing Care of Children Practicum (3)
NURS 418 Public and Global Health (3)
Total credits = 15

 

Total

49 credits

21 credits
Q: What is the time commitment for the accelerated program?
A: Once all required prerequisites are complete, the Nursing curriculum is a full time/campus program for 17 months.
Q: When is the deadline for application?
A: All prospective students should apply upon initial interest. This application process serves as an opportunity for advisement on the prerequisite needs, eligibility, and other related questions from the Accelerated Committee. * Application should be complete by July 1st annually
Q: Can I set up an appointment with an academic advisor as a prospective student?
A: No appointments available. The Accelerated Committee reviews all prospective applicants (application and related materials) on a periodic basis throughout the year. You will receive communication back from the committee regarding your application via email/letter. * All correspondences related to the Accelerated Nursing Program are to go through: accelnursing@udel.edu
Q: How do transfer credits work from my previous degree?
A: Please see the curriculum posted on the website (prerequisites), next use the link below to access the established online transfer credit matrix. If you do not see the course you took listed on the site, it will need further evaluation by a UD Department for transferability (after you apply)
Q: Can I work during the 17 month full-time program?
A: It is recommended NOT to work due to the intensity and rigor of the program.
Q:Are classes available on the evenings and weekends? Can I attend this program part-time?
A: No. Campus courses will run Monday through Friday. Clinicals may be scheduled 7 days a week, days and evenings depending on availability. No. This is a full time program, part time is not available.
Q:What is the price of this program?
A: See the undergraduate Full Time/ Campus rates. Additionally, see the costs for summer and winter sessions to calculate total projected costs.
Q:What are the campus housing options?
A: See this website for all the details pertaining to housing
ADMISSIONS FOR THIS PROGRAM ARE HALTED INDEFINITELY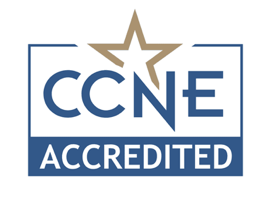 The baccalaureate degree program in nursing, master's degree program in nursing, Doctor of Nursing Practice program and post graduate APRN certificate program at the University of Delaware are accredited by the Commission on Collegiate Nursing Education (http://www.ccneaccreditation.org).