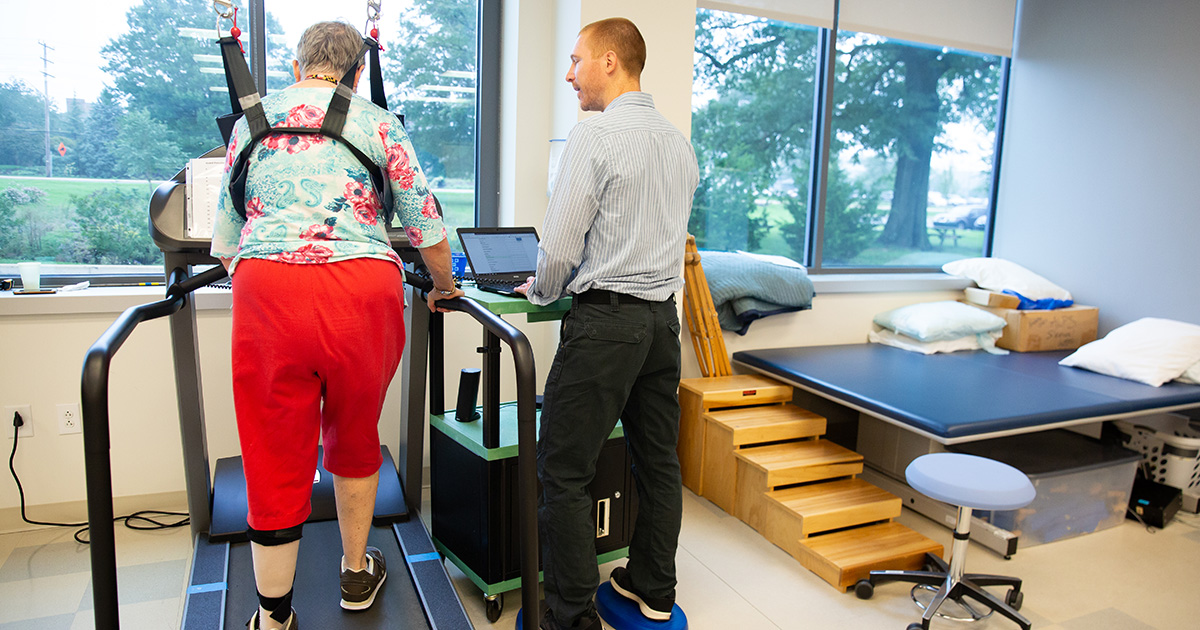 Physical Therapy Department welcomes new faculty
September 07, 2022 Written by Amy Cherry | Photos by Ashley Barnas and submitted by faculty
Two new faculty members are joining the University of Delaware's Department of Physical Therapy this fall while one longtime faculty member is taking on a new role.
Katie Butera will be an assistant professor, focusing on research on pain and movement.
Terrence McGee is joining the department as an assistant professor and director of strategic operations.
Airelle Giordano, who's been with the Department of Physical Therapy for 18 years, has recently been promoted to director of clinical sciences and residency and fellowship training.
Learn more about what inspired Butera and Giordano to pursue careers in physical therapy.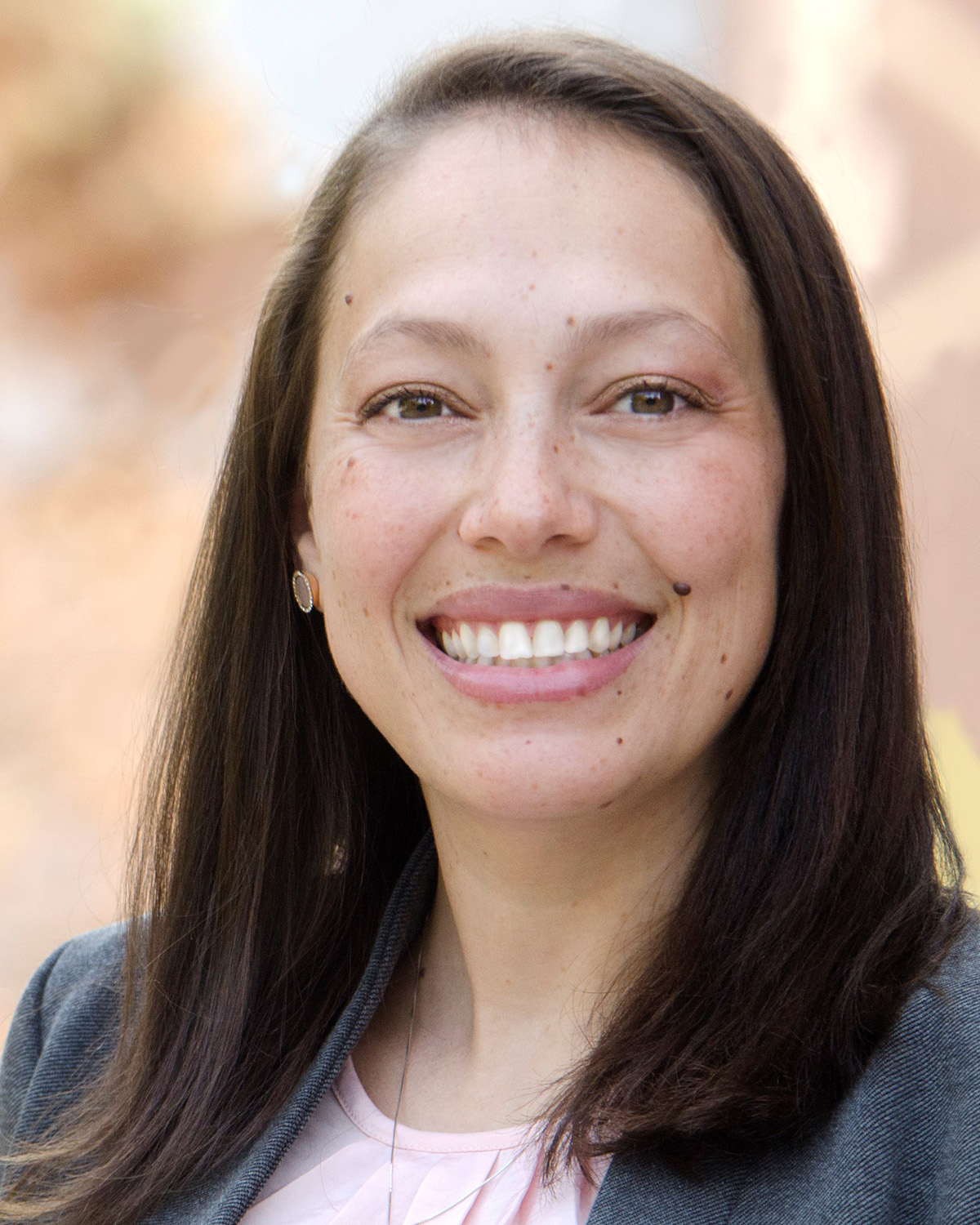 Katie Butera
This fall, Katie Butera is joining the University of Delaware's Physical Therapy Department (PT) as a tenure track assistant professor, whose primary focus will be on research into the interactions between pain and movement and how pain contributes to disability and alters movement performance.
"My long-term goal is to conduct research that will help develop and test movement-based interventions intended to prevent disability in individuals with chronic pain," she said.
During her first year, Butera will be observing classes and obtaining a strong handle on UD's PT curriculum to determine future enhancements. In time, Butera will be educating students on how to manage individuals with spinal cord injuries and how to evaluate and treat geriatric patients.
"UD and the Department of Physical Therapy have done a nice job of setting me up for success in making sure that I have the support and time that's really necessary to be successful in teaching those courses," she said. "I'm hoping in my future courses, I can show students how to use evidence-based practices and apply it to their patient population, so they have a positive impact on patient outcomes."
Butera has aspired to be a physical therapist since she was 10 years old after a family member sustained an injury, and she observed the hands-on aspects of the profession.
"Physical therapists invest a lot of time in their patients, and we, as a family, saw the positive outcomes of physical therapy. So, I think that drew me to that healthcare career path, so I could build strong relationships with patients, and we could work together to improve the patients' quality of life," Butera said.
Butera comes to UD from Colorado, where she was most recently a postdoctoral fellow at the University of Colorado - Denver. There, she worked with PT professor Jennifer Stevens-Lapsley, who graduated with her master of science in physical therapy from UD's College of Health Sciences in 1998 and obtained her Ph.D. in biomechanics in 2002.
"There, I took a detour from pain research and focused more on implementation science and thought a lot more about how we can train clinicians and physical therapists to use research and evidence in the clinic and break down some of the barriers that exist," Butera said.
Butera said she first caught the research bug during her undergraduate years at Southern Illinois University (SIU), where obtained a double degree, a bachelor of arts in psychology and a bachelor of science in physiology. There, she worked as a research assistant in a psychology lab, focusing on genetics with her longtime mentor, Lisabeth DiLalla, professor of family and community medicine at SIU.
"I believe having that strong mentor early on was something that contributed to me moving forward with research," she said.
Butera went on to get her doctorate in physical therapy at the University of Florida and looks forward to collaborating with professors and researchers in UD's PT Department, which has been ranked #1 in U.S. News & World Report.
"I'm excited to collaborate with talented faculty in the UD PT Department who are really getting pain research off-the ground and who are considered pain experts, so I can advance some of my research forward," she said. "Research is a way to advance our profession and keep our profession relevant by ensuring physical therapy has a positive impact on patients.
During her Ph.D. training, Butera developed a conceptual model on pain and movement that she uses as a framework to approach her research. Toward a Transformed Understanding: From Pain and Movement to Pain With Movement was published in the PTJ: Physical Therapy & Rehabilitation Journal, the official scientific journal of the American Physical Therapy Association (APTA).
"I was proud to see others benefitted from this perspective and were carrying this perspective through in their research," Butera said. "I know that my research on its own won't change the field. It really takes collaboration from others both at my institution and outside my institution that will really advance the work."
In her free time, Butera enjoys combat sports. She recently achieved her blue belt in jiu-jitsu.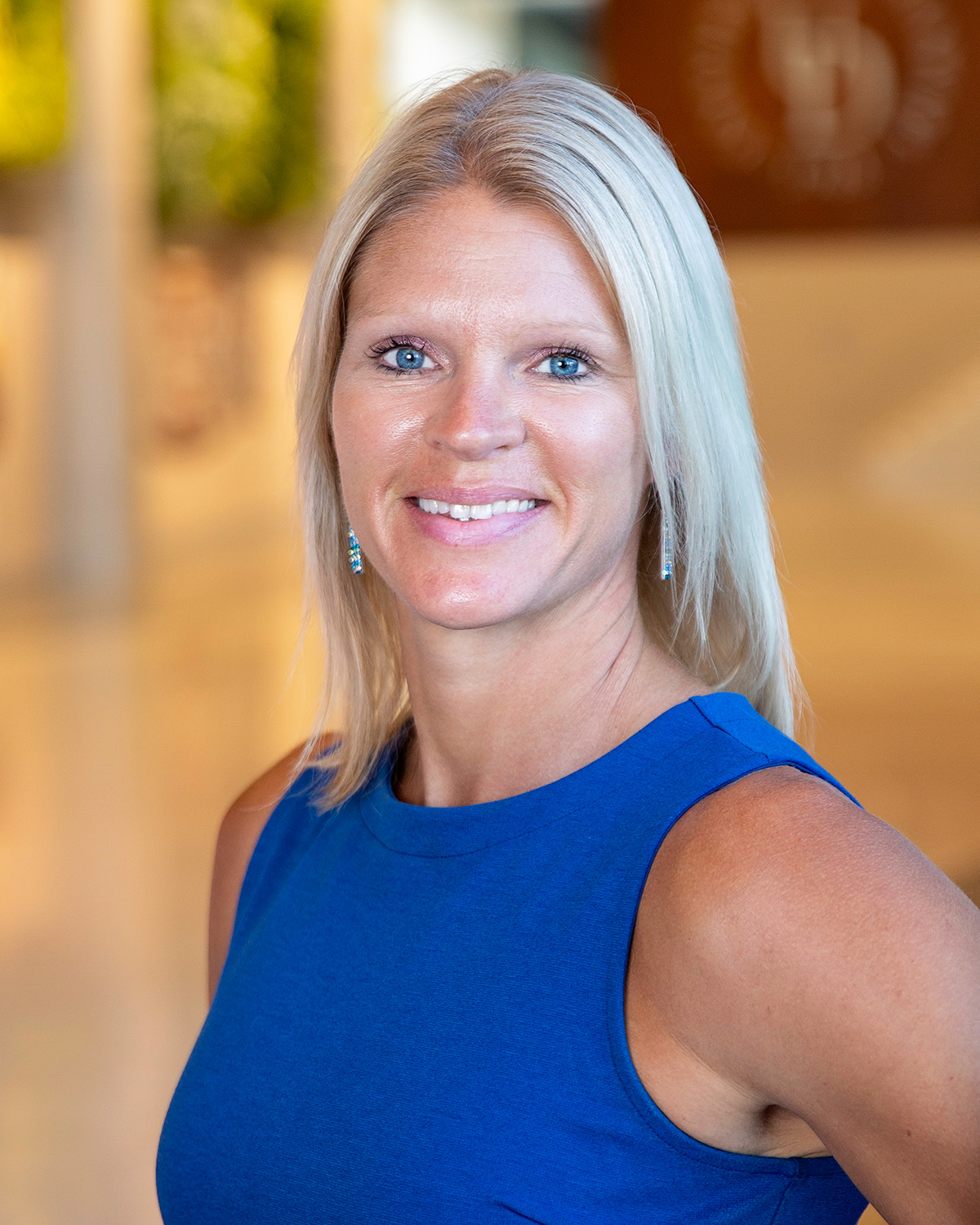 Airelle Giordano
Airelle Giordano was recently promoted to director of clinical sciences and residency and fellowship training in UD's Department of Physical Therapy.
Giordano first came to UD nearly two decades ago, where she served as the associate director of clinical services. She is now overseeing the day-to-day operations of UD's Physical Therapy Clinic. UD's PT Program remains #1 ranked by U.S. News & World Report.
"Our main missions are to train students in physical therapy and to provide outstanding care to our patients. We train all our students to treat patients in what we call our 'living laboratory' in our clinic. Our students are getting hands-on experience at a much earlier timeframe than most other physical therapy programs out there," Giordano said.
In her new role, one of Giordano's goals is to reach out to the community more to raise awareness about available treatments, methods, and resources and measure the success of those efforts.
"Our specialty is in movement. We treat those that want to move and want to move better. We see those with orthopedic challenges, sports, neurologic, geriatric, concussion, limb loss, and more. We really cover the gamut, and I think more than anything I'd like people to know that in Delaware you can visit our clinic without a physician's prescription for up to 30 days with most insurances covering those visits," she said.
She's most proud of creating an atmosphere in the clinic that mentors the next generation of physical therapists whether at the doctoral level, residency, fellowship, or Ph.D. level.
"That's a bit of a lost art across our profession. Physical therapy is a younger person's profession—it's manual labor, and we see a higher turnover as our colleagues age. I'm very proud that we set aside time to mentor our therapists and train the next generation of PTs to be the best they can be Hopefully, they then pass this on to the generations they are educating, helping not only to improve retention but also motivation in our profession."
Giordano specializes in sports rehabilitation and will teach a sports elective to students enrolled in the DPT Program this fall.
"I hope my students learn to ask great questions," she said. "It's challenging in the sports world to cover everything students will see. This course really takes everything they've learned in physical therapy, and they must then apply that at a higher level to return someone to their high-level goals of athletics."
Throughout her childhood and into her college years, Giordano was a gymnast. That inspired her career path.
"I sustained multiple injuries in my athletic career, which led me on the path of wanting a better understanding of the human body and biomechanics, but also wanting to help others who might have to go through that as well."
She attended Kent State University in Ohio for her undergraduate education and obtained a master's degree in physical therapy at UD. She then completed a year-long residency program in sports medicine while completing her DPT through Temple University in Philadelphia. One of her proudest professional accomplishments has been formulating a clinical practice guideline in concussion management which serves as a living document for physical therapists treating patients' post-concussion.
"There's growing literature in the concussion realm for rehabilitation scientists. For physical therapists, there's been very little on what to actually do and how we can help patients with concussion or mild traumatic brain injury improve," she said. "I worked with a group of individuals across the nation on this for the past five years, and we gathered the best evidence so physical therapists can better treat these individuals successfully."  
In her free time, Giordano enjoys CrossFit and spending time with her husband and her children, ages 12 and 10, who are engaged in several sports, including soccer, lacrosse, and Taekwondo.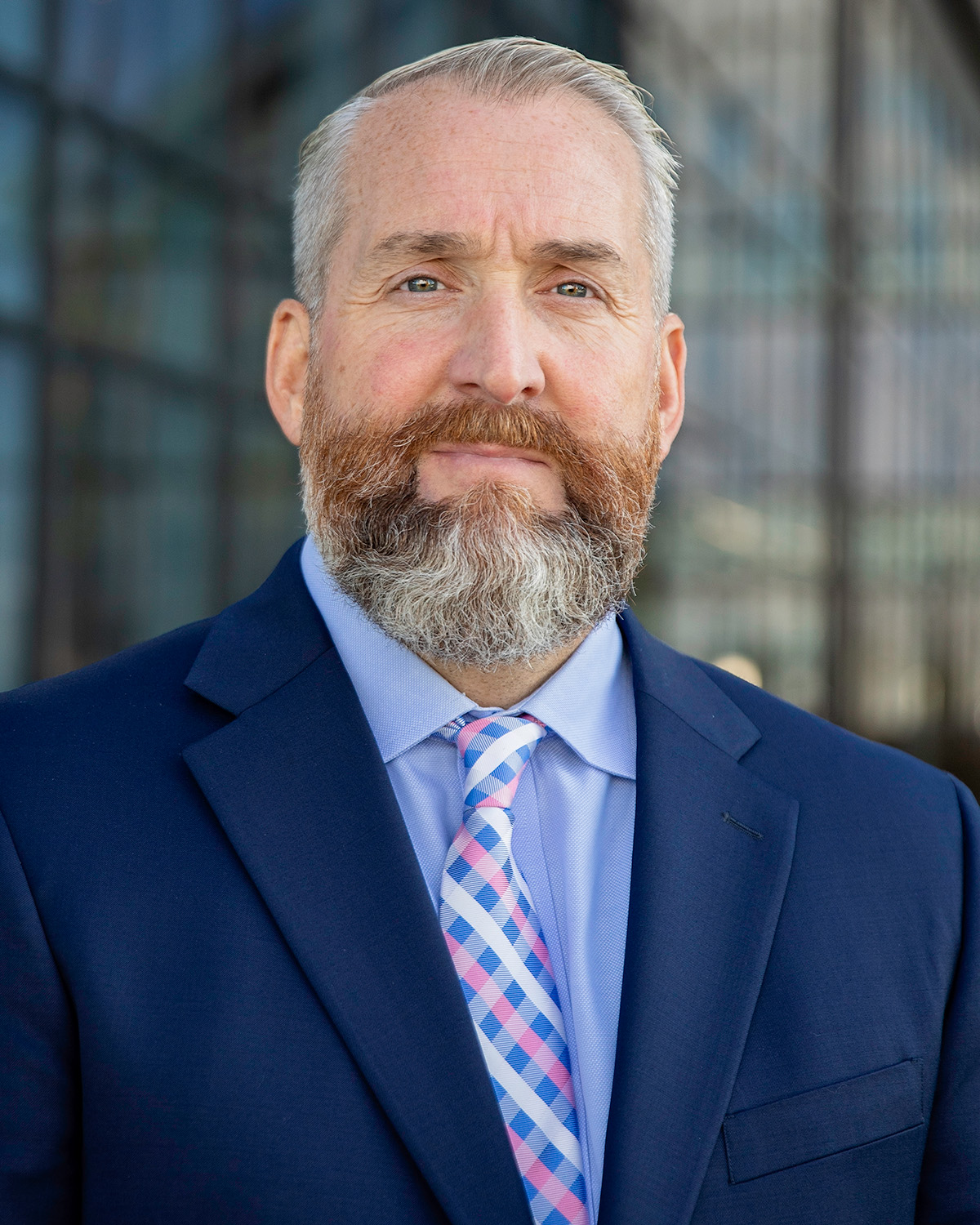 Terrence McGee
Terrence McGee is the new director of strategic operations and an assistant professor in the University of Delaware's Physical Therapy Department.
"The department has never had an individual in the strategic operations role, and they're looking to change their delivery of entry-level PT education to ensure graduates are prepared to meet the changing needs of the community they serve and the profession, he said. "I'm excited to be a part of that."
In his new role, McGee will be implementing diversity, equity and inclusion initiatives and helping to prepare graduates to be effective agents for change.
This fall, McGee will play a role in instructing two courses, spine management and basic evaluation techniques.
McGee comes to UD from Johns Hopkins Hospital in Baltimore, Maryland, where he spent more than a decade as a clinical resource analyst and the last three years as the director of education, overseeing educational programs, including PT, occupational therapy, speech, and students' clinical affiliations as well as residency and fellowships for all three disciplines.
"As a practicing therapist for more than 22 years, it's a natural evolution for many to eventually go into academia," said McGee. "For me, being affiliated with the number one provider of healthcare services in the world to transition to the number one educator of physical therapists was a no brainer."
During his time at Hopkins, he's most proud of building an accredited orthopedic residency program.
"Over the course of time I was at Hopkins, we graduated 30 physical therapists, went through rigorous reaccreditation, and saw nearly 100% first-time pass rates on certification exams, so we know we're adequately preparing PTs to obtain their board certification," he said.
He also played a pivotal role in an ongoing research collaboration between Hopkins, the University of Utah, and Intermountain Healthcare. The optimized trial is examining persistent low back pain and comparing physical therapy, cognitive behavioral therapy, and mindfulness to determine an appropriate sequence based on patient demographics.  
McGee comes from a family of healthcare workers. His mother was a registered nurse, and his uncle was a psychiatrist. His personal experience and affinity for health sciences drove him towards a career in physical therapy.
"I had some injuries of my own, and in spending time with physical therapists, I saw the difference in the quality of time that can be spent with a patient versus the time a physician spends with a patient, and it seemed like a natural path for me," he said. "The physical therapy profession also inspires a level of empathy that others might be missing."
McGee obtained his undergraduate degree from Mount St. Mary's University and his master of science in physical therapy at Sacred Heart University in Fairfield, Connecticut. McGee went on to obtain his doctor of science in physical therapy at the University of Maryland School of Medicine. He also completed a manual therapy fellowship from The Manual Therapy Institute. McGee is a board-certified clinical specialist in orthopedic physical therapy and a fellow of the American Academy of Orthopedic Manual Physical Therapists.
McGee has three children, ages 20, 18, and 10. In his free time, he enjoys taking his youngest son to the pool and playing soccer with him as well as playing golf and traveling.