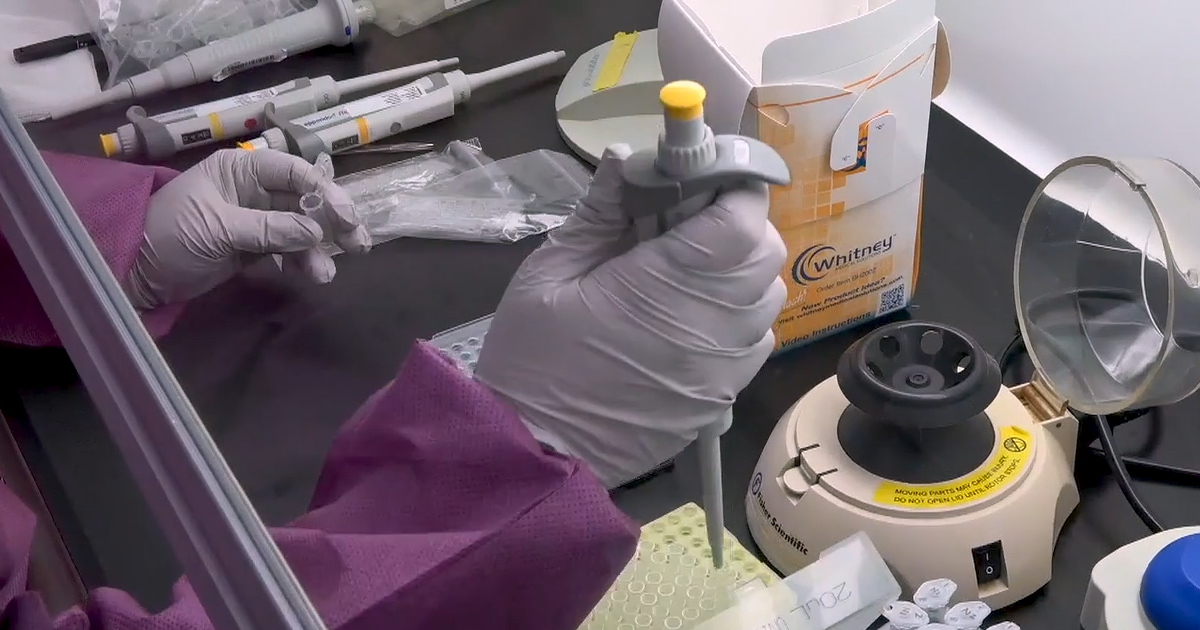 Internship gives MMS students experience with COVID-19 research and testing
May 11, 2021 Written by Kelly Bothum | Photo by Ashley Barnas
Like his fellow college students, Joshua Szymanski has experienced the myriad disruptions caused by the coronavirus pandemic. But Szymanski, a senior applied molecular biology and biotechnology major, also has had the opportunity to get valuable experience in COVID-19 testing through a year-long internship with ANP Technologies, a pharmaceutical company in Newark.
"I'm just excited to be on the cutting edge of science and to be involved in helping stop the pandemic and get the world back to what it was before," Szymanski said.
Szymanski and two of his classmates, Maria Romano and Kristen Learch, are interning at ANP Technologies, which has developed two COVID-19 tests. The first is an at-home rapid test that detects coronavirus antigens in nasal samples. It shows a positive or negative result similar to a pregnancy test and takes about 15 minutes. ANP has received funding from the National Institutes of Health's Rapid Acceleration of Diagnostics team to validate its potential use at home. The other test, which also takes 15 minutes, is a blood test that identifies whether an individual has specific antibodies that block SARS-CoV-2 infection.
The UD students were placed in the internship by the Department of Medical and Molecular Sciences as part of the requirements for their major. Esther Biswas-Fiss, chair of the MMS department, said the internship opportunity gives students a chance to strengthen the skills they learn in the classroom to make them competitive in the job market.
"Our students already have the skills and experience that employers are looking for," Biswas-Fiss said. "These internships are a strength of our program and a reason why our graduates are so in demand."
Szymanski and his labmates are helping with the research and development of the components used in the tests. In recent months, they have been comparing data to determine the optimal combination of materials and compounds to use in the test. Szymanski also is part of the clinical team, helping to recruit patients and then bringing them back for the antibody test.
Ray Yin, owner and president of ANP Technologies, said the UD students have made valuable contributions to the company. "They have done a great job in the research and development side of these things," Yin said. "If I were them, I would be thrilled to have this opportunity to work on the most urgent problem with the most cutting-edge technology."
Given the impact of the pandemic, it's been a busy time for Szymanski and his classmates during their internship, but the pace hasn't been a challenge. Szymanski said he appreciates the constant movement and progression in the field.
He plans to continue working with ANP after graduation, when he plans to pursue a master's medical science also at UD. He hopes to focus his research on COVID-19 variants and the effectiveness of current vaccinations in protecting the population.
"I chose this line of work because I knew that I wanted to try to benefit the world around me," he said. "The world around us is changing everyday, I think it's important to try to be a part of that change and try to make it for the better."
Yin said the UD students are getting exposure to testing challenges in real time while interning at ANP. They are understanding how individuals' health conditions, medications and age can affect their overall vulnerability to other illnesses. For example, those with immunocompromised conditions may not get the same vaccine benefit as someone without immune issues. Knowing their antibody level could determine whether they need a vaccination booster to provide maximum protection against COVID-19, Yin said.
"This is part of their education, how we can help people think and how we produce the future stars," Yin said. "They don't have to work at ANP, but down the road, they could help us to fight and to solve many of the medical problems on their own."