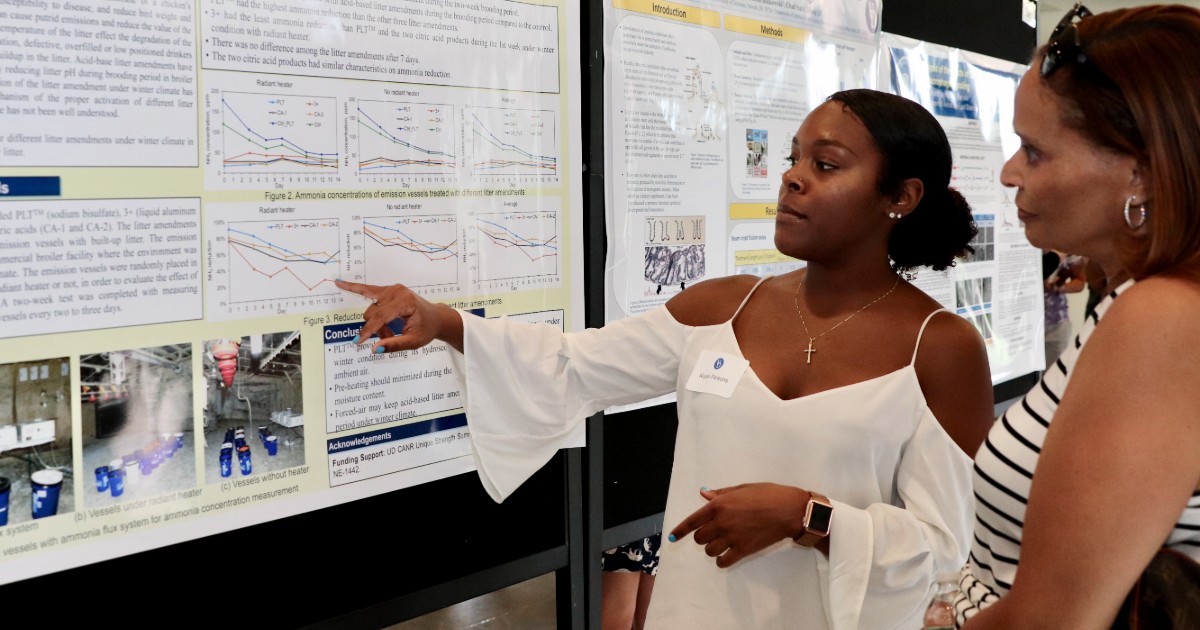 Volunteer extraordinaire
May 26, 2021 Written by Monica Moriak | Photo by Monica Moriak
Graduating senior Aliyah Parsons reflects on her time at UD
As she prepares to graduate University of Delaware College of Agriculture and Natural Resources (CANR) senior Aliyah Parsons reflects on her time in Newark. While the next stage of her education takes her away to veterinary school, the Woodbury, New Jersey native is grateful for lessons learned from and relationships forged with CANR faculty and students. The pre-veterinary medicine and animal biosciences double major made the most of her time on campus, serving as an Ag Ambassador, Allen Scholar, veterinary technician at a local animal hospital and mentor to elementary students and incoming freshman.
Q. What was your favorite UD course and why?
Parsons: My favorite course was Functional Anatomy of Domestic Animals (ANFS240). The format of this class really enhanced my learning. The lecture was the first 50 minutes of class; then we had hands on experience to apply what we learned. I loved being able to dissect the cadavers. This course was hands-on the entire semester, which is crucial to learning the anatomy structures and systems taught in class. Even though I took this class freshman year, I utilized the lab manual and knowledge I gained throughout all of my animal science courses as well as in my job as a veterinary technician.
Q: Outside of class, what other activities did you participate in and how did they enhance your time at UD?
Parsons: I am a mentor for two organizations, Creative Mentoring for local elementary students and Each One Reach One for first year African American students at UD. I also volunteer for the AgCelerate program participating in the wetland cleanup project and during Ag Day. I am on the executive board of the Cultural Programming Advisory Board, an Ag Ambassador, a research assistant and a veterinary assistant. Having these various roles taught me to manage time and develop responsibility. Each role made my four years at UD much better because I was not only giving back to my community, but many opportunities were opened to me.
Q: What advice would you share with your freshman self about the next four years?
Parsons: Manage your time wisely. Time management is a key skill to develop, taking time to plan ahead has allowed me to be successful with my rigorous coursework and numerous extracurricular activities. Secondly, start early. The semester is surprisingly short, you are learning new information every day which accumulates fast. Creating a schedule with exam and assignment due dates gives you enough time to plan how long an assignment will need and prioritize when to start. Finally, have fun and enjoy free time. Although we are at school to learn, we still need to prioritize mental health. Coursework can be overwhelming or stressful, but taking time to go outside, listen to music, or hang out with friends to detach yourself from doing work is better for your mental health.
Q: Did you stick to your plan that you had when you started college?
Parsons: I did stick to the plan of being pre-veterinary medicine major and applying to veterinary school. When I was first considering this career, I was interested in shelter medicine. Most of my animal experience is primarily from the Gloucester County Animal Shelter, but working on the farm during my coursework has fostered a strong desire to work with larger animals, too. At veterinary school, I will apply for mixed animals because I want to have knowledge in both specialty areas. An area that changed was my position on research. I never considered research during my time at UD because I did not know much about how research worked or what field I was interested in. While I was taking environmental management with Professor Hong Li, he asked if I was interested in a summer research project poultry production. I am grateful for the opportunity because it allowed me to be a co-author of an abstract that we completed together as well as an Allen Scholar.
Q: What are your plans after graduation?
Parsons: I will work as a full-time veterinary technician and apply to veterinary school for the 2021-2022 cycle.
Q: Looking ahead in your professional career, what do you hope you're doing a decade from now?
Parsons: I want to practice mixed animal medicine—small, large and maybe exotic. I want to have a family and travel the world, not only to see other countries, but also to practice medicine. I want to learn about different cultures and methods of medicine.
Q: For high school students looking at colleges, why should they choose the College of Agriculture and Natural Resources?
Parsons: Choose our college because of the educational experience provided. From day one, you are hands-on on the farm—learning how to trim sheep hooves, body condition scoring cows, learning how to take vitals on a dairy calf, or dissecting cadavers to learn anatomy. The farm is wonderful with so many opportunities to work and gain more experience in the field of agriculture and animal science such as research and working with faculty in labs and on the farm. Also, the faculty always willing to help you be successful during your time here.
Q: What will you miss most about UD?
Parsons: I will miss the UDairy Creamery because their ice cream is awesome. I will miss the farm. Most of my favorite experiences happened on the farm such as being able to place my arm in a chamber of a dairy cow's stomach and watching the birth of a calf. Lastly, I will miss my friends. Being able to meet with my friends on Main Street or hang out with them in our apartments at my own leisure is truly going to be missed.