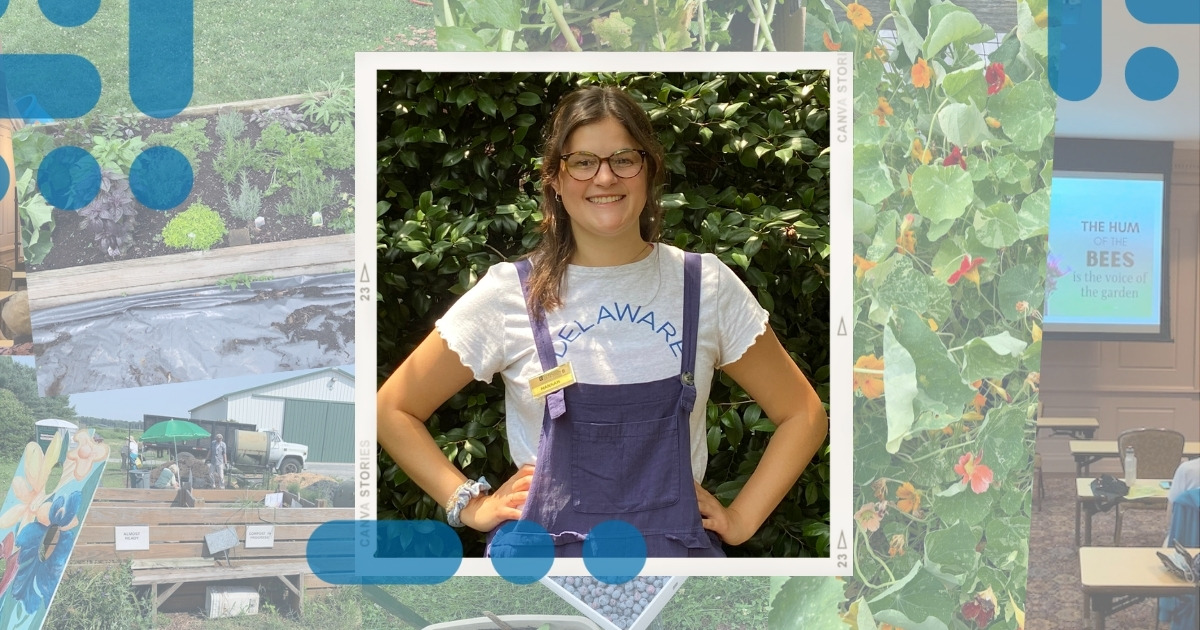 An Extension Scholar Tells All: Learning to Garden with the Delaware Master Gardeners!
July 30, 2021 Written by Hannah Kirby, 2021 Extension Scholar
As a Nutrition and Dietetics major at the University of Delaware, my focus has always revolved around the nutrients offered by the vegetables and fruits available in the grocery store. Little did I know, I'd be spending my summer knee-deep in vegetable beds learning about how these delicious necessities come to be. 
I came into this Cooperative Extension Internship eager to learn more about the thralls of gardening, but I was also very nervous as it was completely out of my comfort zone. The Extension agents, Master Gardeners and my mentor, Carrie Murphy, welcomed me with open arms. Every day I find myself learning something new and more times than not related to my field of study. 
Every Monday morning, I work with the most knowledgeable and spirited group of Master Gardener volunteers, many of whom have worked together for upwards of 10 years, in the Master Gardener Vegetable and Fruit Demonstration Garden at the UD Cooperative Extension Office on campus. I help weed the garden, harvest vegetables and fruits and pose as a pair of extra hands wherever needed. Having little background in gardening left me with many questions (for example, I didn't know which plants were weeds, how to plant, how to harvest, which bugs were good and those that were not)-- all of which were happily answered. 
Gardeners, as they rightfully should, take a lot of pride in their work. Knowing this, I have been pulled aside many times to be shown certain aspects of the garden. It has become painfully obvious that those vegetables and fruits don't just appear on the self-watering metal shelves in the grocery store. A whole lot of love and work goes into growing them. 
In the short time that I have worked with the Master Gardeners this summer, I have already learned a lot. Here are a few fun facts that I have been taught that can help any new vegetable gardener!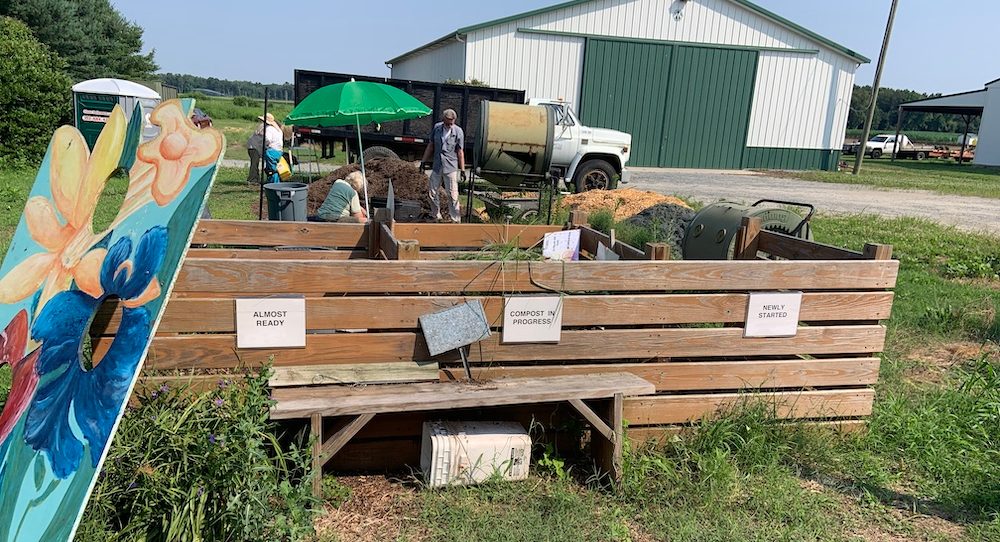 THE LEARNING CURVE
Watering
It may have just been the little kid in me, but when I watered plants, I always went for the super soaker that doused the leaves for just a few seconds. Having worked with the Master Gardeners, they have certainly set me straight. To properly water the plants at their base, directly to their roots. While some absorption will occur through the leaves, the majority will occur through the roots. I also learned that wet leaves are not necessarily a good thing; in fact, sitting moisture, in general, can promote certain plant diseases.
Master Gardener, Paul Clark, described his ideal way of watering a garden. Clark does one sweep through the garden giving each plant a quick drink, providing water to its base and directly to the roots. He then allows this to sit and loosen the soil. This is important, especially after long hot days, to prevent water runoff on the hard, dry soil. He will then go through and water the garden again to ensure the water can slowly soak down into the root systems of the plants.
Soil and Compost
When beginning a garden, it is important to test the soil or the area in which you are growing. Soil testing helps you to understand the profile of the "dirt" (oops, something else I learned, don't call it dirt because dirt is what gets on your clothes and under your nails, but soil is living and consists of elements that have been decomposing since the beginning of time). Soil testing helps you understand the soil profile and can reveal important information like if organic matter such as compost is needed to improve the soil and the pH (6-6.5 pH is the desired range for growing most plants). Soil testing will also provide you with recommendations to make good decisions in your garden and enhance your soil to support healthy plants.
If your community allows it, composting can be a great way to give organic matter back to your soil. You can compost actively (a composting site and/or bin) or passively (dumping yard waste in a designated spot on your property). As Extension Agent Tracy Wootten says, "Compost happens,' therefore, just passively composting on your property will work just as well.
THE PLANTS THAT HAVE LEFT AN IMPRESSION
Kohlrabi
Despite being taught thoroughly about vegetables, as you would expect in my major, I had never heard about kohlrabi. Rick Judd, the Master Gardener who leads the Demonstration Garden at the Extension Office, quickly introduced me to this baseball-shaped plant. Judd explained to me that kohlrabi is in the same family as the Brassicaceae plants like cabbage, broccoli and cauliflower. Kohlrabi is not a root plant, but like turnips, it has a bulb and leafy greens, both edible. It is a high source of Vitamin C--that's a plus in any Dietitian's book.1 (Kohlrabi fact sheet)
This vegetable is also very simple to plant and a great place to start for those beginning their gardens. Seeds are only planted ½ inch in depth at least 6 inches apart and are easily grown from seeds.1
While I wasn't able to try one of the gorgeous bulbs that came from the garden, a lot of the Master Gardeners compared kohlrabi to the taste of broccoli stems. Knowing this, I think there's a good chance that I'll be adding this to my diet, as I am a huge broccoli fan.
Turnips
Unlike kohlrabi, turnips are root plants. This means you will find the bulb portion of the plant to be in the ground. Like kohlrabi, both the green thinnings and bulb portions can be eaten (raw or cooked). Judd also explained the nutritional benefits of adding turnips to your dietary rotation--not only are they good sources of Vitamin C, but they are rich in the fat-soluble vitamins A and K as well. These high sources of vitamins packed into such a delicious vegetable are a great reason to consider adding them to your home garden.2 (Turnip Fact sheet)
Turnips are relatively easy to maintain and plant. Pest and disease problems that involve turnips are rare, but when they do occur, very little damage occurs. Similar to kohlrabi, it is important to plant each seed at least 6 inches apart in each direction. This will ensure that each plant will have enough space to grow and thrive in your garden. Inconsistent plant sizing can occur if equal distribution of space and nutrients are not available.2
Over quarantine, my family loved to experiment with turnip recipes. My favorite recipe by far was the 'Turnip French Fries.' The steps are easy to follow too!
 
Wash and cut the turnips into your desired size and shape (we used the batonnet knife cut sizing).
Season with olive oil and desire spices.
Pop in the oven or air fryer until crispy.
 
These fries taste almost exactly like regular french fries for fewer calories and carbohydrates. It is the best swap for those pre-frozen bag french fries. 
Blackberries
One of my favorite plants harvested from the Demonstration Garden is the blackberries. As they were harvested, we would enjoy them. It's highly advised that you rinse all garden produce before digging in, but we just couldn't wait.3(Washing Produce Fact Sheet) They were oh so sweet and delicious. If you are looking for a summer snack or dessert, look no further. With their high levels of fiber, blackberries will be sure to hit the spot and keep you satisfied until your next meal. 
A helpful tip I learned while picking the blackberries from the bush is to look for the ones that have already turned the deep blue-purple color and give them a gentle tug right at their attachment. Blackberries that are ready to be harvested will easily fall off their branch, while those that need more time won't. 
Every Monday morning, I work with the most knowledgeable and spirited group of Master Gardener volunteers...
Every Monday morning, I work with the most knowledgeable and spirited group of Master Gardener volunteers...
Herbs
The herbs in the Demonstration Garden are grown in a raised bed. Some herbs like mint need to be contained, so best to plant in a container or place in a pot that has been buried in the ground. The Master Gardeners also grow basil, dill, fennel, oregano, rosemary and lavender. The herbs have been placed in a sunny spot area. One of my favorites is basil.
Nasturtium
This is a plant with some interesting power. According to Judd, the oil and smell of this plant deter 'squash bugs' from attacking the squash plants. If you plan on planting any kind of squash, nasturtium would be a great addition (companion) to your garden. And it is edible! Surprisingly, the gorgeous orange and yellow flower is the edible portion of this plant. I tried it--and it was a kicker, to say the least. This flower can be used for decoration in a dish or on a plate, but when eaten, it has a bitter, peppery taste that will stay in your mouth for a few minutes after eating it. This flower is for adventurous eaters.
PAINTED NAILS TO GREEN THUMB
In summary, I cannot wait to move out of my college townhouse and into space where I am able to plant my own garden. With the help of the Master Gardeners and Cooperative Extension Agents, I feel as though I am truly honing in on my green thumb skills and bringing back useful information to use in my Nutrition and Dietetics career path. I am ready to dive into the dirt, I mean soil and coexist with the bugs without hesitation to create beautiful, sustainable, productive gardens.
I strongly urge you to come and visit the garden! In addition to the Vegetable and Fruit garden, Master Gardeners care for a Native Plant garden and Compost Demonstration Site at 461 Wyoming Road, Newark, on the University of Delaware campus. Master Gardeners work in the garden on Monday mornings from 9 a.m. to 11 a.m. if you're interested in talking with a Master Gardener volunteer during your visit. And, there are Master Gardener demonstration gardens in Kent and Sussex counties at the Extension Offices as well!