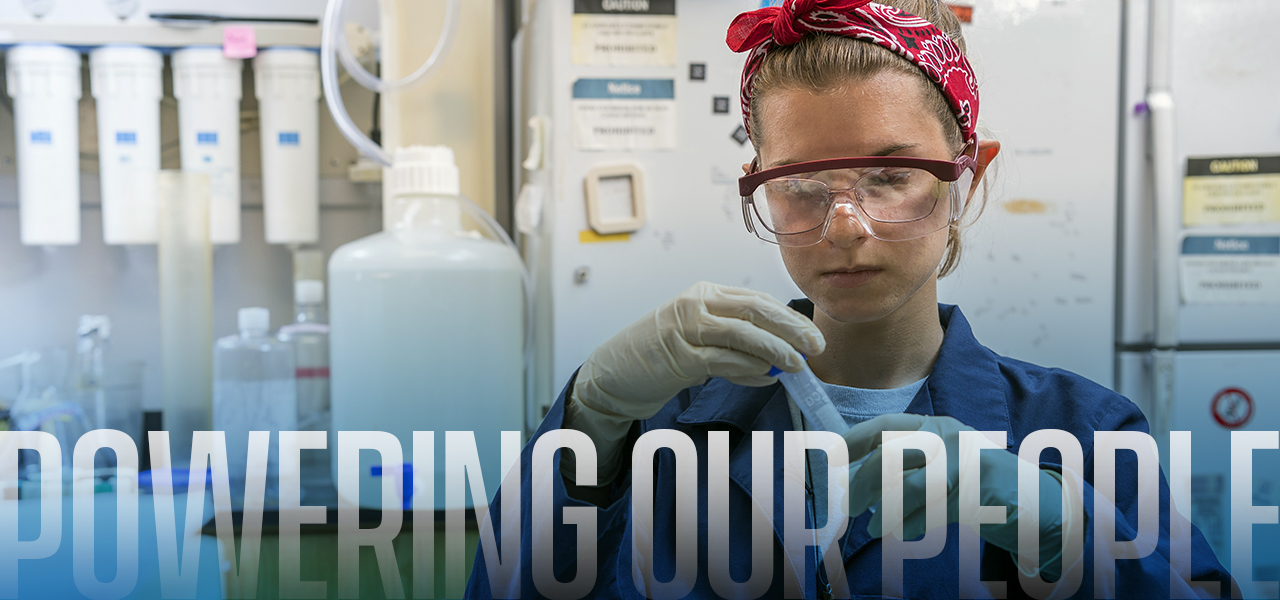 Undergraduate Excellence
The University of Delaware is amplifying the breadth and depth of its world-class
education to embolden our talented students to accomplish amazing things.
---
The expanding Honors Program attracts and challenges top students who are recognized with the nation's most prestigious awards.
World Scholars study abroad twice—including as first-year students at one of four sites around the world—and develop a global mindset by immersing themselves in on-campus experiences.


Community Engagement Scholars explore new ways to carry on UD's strong tradition of public service.


Access:Ability Scholars (pictured) become skilled and passionate advocates for the disability community.


Delaware Innovation Fellows develop the resilience and problem-solving mindset that's the hallmark of successful entrepreneurs.


Cybersecurity Scholars and Grand Challenges Scholars for Engineers are on the leading edge of solving some of our society's greatest problems.


Launching in fall 2020, UD's new Early College Credit Program is a first-in-the-nation opportunity for all Delaware high school students to get a jump on their college education in live-streaming classrooms, earning up to a full semester of courses for free.
Unlocking nature's mysteries
In Cannon Laboratory at UD's seaside Lewes campus, senior Gretchen Johnson is studying an enzyme important to the growth of Chattonella subsalsa, a species of algae that can cause harmful algal blooms that are related to fish kills around the world.
It would take a

$1.2 Million investment
today to equal the value of a UD degree in 40 years, one of
the top 50 returns among public universities nationwide.
More than

1/3 of undergraduates
conduct research with a faculty member,
contributing to their high-impacted UD experience.
Graduate Achievement
The University of Delaware's new Graduate College is reimagining advanced education to
develop the cross-disciplinary expertise to solve the world's most complex problems.
---
Graduate programs recognized among the nation's best

University of Delaware's schools of education and engineering, as well as more than a dozen graduate programs, rank in the TOP 50 among their peers nationwide.

Biomedical engineering/ bioengineering
Chemical engineering
Clinical psychology
Criminology
Homeland security and
emergency management
Materials engineering

Mechanical engineering

Nonprofit management

Online MBA

Online Master's of Education

Physical therapy (#1 in the nation)

Public affairs

Public finance and budgeting

Public management and leadership
Innovative new programs harness power of knowledge

Cutting-edge science in emerging fields is driving UD's creation of unique graduate programs, such as the new Hospitality Data Analytics doctoral program that incorporates big-data science. "No other program anywhere combines hospitality with a such strong focus on data gathering, processing and analysis," said Brianna Shultz, one of the first doctoral candidates in the program.
Translating scholarship into patient-centered care

The Delaware Physical Therapy Clinic is the public program of UD's top-ranked physical therapy program, providing a unique environment where physical therapists, students and researchers work together to administer cutting-edge treatment to patients from the University and the surrounding community.

UD is building an ongoing education platform to open
new pathways for lifelong learning

21% Growth
in nonmatriculated students since 2016.

Since 2016,

UD has established 17 new master's programs,
8 new Pd.D. programs and 6 new certificate programs,
helping to meet the needs of students, employers and society.

Faculty Inspiration
Vibrant and ambitious, the University of Delaware's distinguished and growing faculty
is continually challenging students by demonstrating scholarly excellence and impact.
---
Teaching with passion and purpose

Knowledge comes alive at UD, animated by our faculty's innovative teaching methods that erase the boundaries that once separated classroom, lab and community.
UD helped innovate problem-based learning more than a quarter-century ago, and our
professors keep blazing new education pathways. Some teach finance by helping students wisely invest a portion of UD's endowment, while others connect introductory chemistry and biology lessons into one seamless course.
Premier researchers like Roberta Golinkoff — award-winning author of the bestseller Becoming Brilliant: What Science Tells Us About Raising Successful Children and 15 other books — integrates students into her early childhood learning lab.
"Our students are going to change the world," Golinkoff says, "and that's what I'm determined to help them do."
New professors add new views to esteemed faculty

Hired as part of UD's interdisciplinary data science initiative, Federica Bianco is an astrophysicist with a joint appointment in the Biden School of Public Policy and Administration. Since 2016, 56% of new full-time faculty members have been women and 14% have been members of underrepresented minority groups, helping to expand the faculty's diversity of backgrounds and perspectives.
Highly cited researchers

Rodrigo Vargas, an expert on the carbon cycle who studies the interactions among soil, plants and the atmosphere, is one of six UD professors who rank among the top 1% in peer citations worldwide.

The others are:
Cecilia Arighi, Computer & Information Sciences


Hongzhan Huang, Computer & Information Sciences


Wendy Smith, Management


Cathy Wu, Computer & Information Sciences


Yushan Yan, Chemical & Biomolecular Engineering
Full-Time Faculty Members


University of Delaware 2020 President's Report