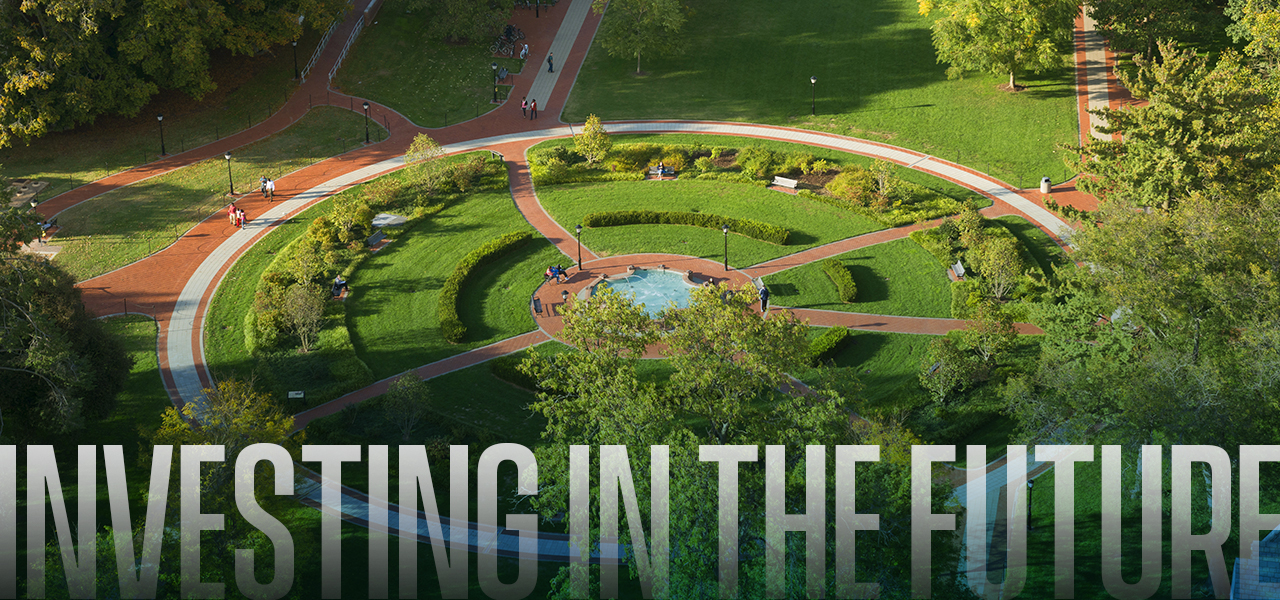 The Green
At the heart of the University of Delaware campus, The Green
bustles anew as fresh life is breathed into its historic architecture.
Library renovations revive space for scholarship
Long the scholarly hub of The Green, the Hugh M. Morris Library is undergoing a long-term renewal and expansion to serve the growing needs of the campus and community. Renovation of the Library Commons yielded an inviting space for students to connect and collaborate.
Next up are an annex and a larger state-of-the-art Special Collections area to accommodate UD's unique resources, such as a world-class collection of Victorian literature and art.
New Wellbeing Center aids students' health and wellness


Committed to all aspects of students' success, UD is gathering a growing list of services under one roof in the new Wellbeing Center at Warner Hall.
Individual and group counseling, sexual assault victim advocacy, substance misuse counseling and a variety of education and prevention programs will be offered at the center, providing a holistic approach in supporting healthy students and a healthy campus.
The center will be located in historic Warner Hall, named for Emalea Pusey Warner, who was a champion of higher education for women in Delaware.
Across The Green, an expansion to Drake Lab will house new modern laboratories for general chemistry, organic chemistry and inorganic chemistry, as well as future research labs. The project, set to begin in 2020, will be built to LEED Silver guidelines.
Since 2019, UD has invested

$47 Million
in improving and maintaining the classrooms, laboratories and other buildings on The Green. Another $290 million is plannded through 2023.
Preserving a historic vision

While evolving to serve today's scholars, The Green remains true to the beauty and functionality envisioned by Marian Coffin, the nation's first female landscape designer and architect.
STAR Campus
Constantly evolving, the University of Delaware's Science,
Technology and Advanced Research (STAR) Campus is redefining
the modern university: a dynamic nexus for learning, discovery,
collaboration and life-changing impact.
---
Global R&D operation opens research pipeline

The Chemours Company, a global leader in titanium technologies, fluoroproducts and chemical solutions, has opened its new innovation center, The Chemours Discovery Hub, on UD's STAR Campus. The facility is specifically designed to foster collaboration and propel innovation, while inspiring and developing the next generation of science and technology leaders through research partnerships, internships and job opportunities.
FinTech building will help shape emerging industry

UD, Delaware Technology Park and Discover Bank will partner on the construction of a new building at the STAR Campus focused on the evolving world of financial services technology, commonly called FinTech.
The six-story, 100,000-square-foot building will facilitate academic, industry and regulatory interdisciplinary innovation that enhances societal access, new technologies and safety in digital financial services.
Cutting-edge biopharmaceutical research comes to STAR Campus

The new Ammon Pinizzotto Biopharmaceutical Innovation Center is nothing short of a game-changer, putting UD at the leading edge of innovation in this burgeoning field. The Center will be home to the National Institute for Innovation in Manufacturing Biopharmaceuticals (NIIMBL), as well as UD's deep expertise and resources in agriculture, engineering, health, biotechnology, data science and other disciplines.
Delaware First: $750 million ... and rising
Delaware First — the largest philanthropic and engagement campaign in the history of the University of Delaware —
surpassed our $750 million goal six months ahead of schedule.

So, we're keeping up the momentum to achieve even greater success.
---
Culture of generosity fuels progress
The Delaware First campaign has already had a transformative impact on UD.
*As of Feb. 1, 2020
scholarships for undergraduate Blue Hens

fellowships to support graduate students

professorships & chairs to recruit, retain and support talented faculty

research programs & projects, enabling world-changing discoveries

capital projects to ensure a modern learning environment

"Our students now have a place to reflect
on the generations of Blue Hens who walked our campus before them, and they can dream of their
own future, the accomplishments they've yet
to achieve and the possibility of their own names being added to Alumni Circle."

PRESIDENT DENNIS ASSANIS
AT THE DEDICATION OF ALUMNI CIRCLE,
OCTOBER 26, 2019
A global community of Blue Hens, UD has more than 182,000 alumni in 120 countries around the world.
University of Delaware 2020 President's Report