STRENGTHENING INTERDISCIPLINARY
AND GLOBAL PROGRAMS
The great challenges cross national borders and academic boundaries, so we address them from an interdisciplinary and global perspective. Strong investments—including creation of the new Graduate College—are enhancing collaboration, advancing our scholarship and connecting undergraduate students to life-changing research opportunities.
We are strengthening our partnerships around the world and bringing the world to the University of Delaware by connecting a growing body of international students to our welcoming campus.
INTERNATIONAL UNDERGRADUATE ENROLLMENT CONTINUES TO CLIMB
Contrary to broad trends in higher education, UD is seeing growth in international applications and enrollment. A new global recruiting push is helping to keep the momentum going.

743
International undergrad students
in 2016-17

876
International undergrad students
in 2017-18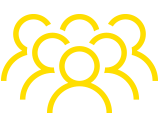 954
International undergrad students
in 2018-19
World Scholars expands to give
students unique global education
Living abroad during their first freshman semester is just the beginning for the University of Delaware's World Scholars. They live alongside our international students as sophomores, embark on a second study-abroad as juniors and cap it off with a global symposium as seniors. Learn more.
"The first month in Madrid [as a freshman], I felt like I had known my classmates for years," said Luke Chalmers, a Class of 2020 history major who is studying in Rome as a junior. "I saw things I thought I'd only see in a textbook."
Already established in Spain, Italy and New Zealand, the program will add Greece in fall 2019.
UD has long been a pioneer in global education: We invented study-abroad programs in 1923 when Professor Raymond Kirkbride, a World War I veteran, led a group of UD students to France to promote cross-cultural understanding. Today, a third of UD students go abroad for education, research or service in more than 40 countries.
Collaborating to preserve our global heritage
Cuba. Cambodia. Sudan. These are just a few of the places where students and faculty from the University of Delaware's world-renowned Art Conservation graduate program have worked recently to preserve priceless cultural objects.
The program—a partner with Winterthur Museum—combines the fields of studio art, art history and chemistry. Closer to home, Art Conservation students have restored precious family photographs salvaged from Texas floods and a devastating house fire in Ohio.
Harnessing information at the new Data Science Institute
to advance health, business and more
Cathy Wu is a global expert in bioinformatics—the use of computers to make sense of biological data—which makes her the perfect choice to lead the University of Delaware's new Data Science Institute.
Launched in 2018, the Institute willcombine disparate, dynamic and distributed datasets to better understand and predict complex systems so we can address society's challenges in personalized medicine, energy use, financial services, education, communication and more.
Learn more.
The Data Science Institute is part of a broader initiative to build expertise in the field. UD is adding data-focused faculty in astrophysics, geospatial analysis, neurology, information theory and more. Also, a new master's program in data science allows students to tailor their curriculum to focus on engineering, natural sciences, social sciences, economics, education or other fields.
Biden teams with alma mater to tackle social and policy challenges
The newly named Joseph R. Biden, Jr. School for Public Policy and Administration is the University of Delaware's latest initiative to carry on the legacy of the Class of 1965 graduate and 47th Vice President of the United States. Learn more.
The Biden School, along with UD's Biden Institute, reflects our commitment to developing research-based policy solutions to the challenges of civil rights, criminal justice, violence against women, the environment and more. Biden frequently moderates campus discussions with distinguished speakers, and his call for new ideas to revitalize the middle class brought hundreds of researchers and policy experts to UD last fall.
The work honors the value of public service that Biden learned as a UD undergraduate. "All my professors talked about how being a politician was the noblest undertaking you could pursue," he said. "I want to be for the students here what the faculty was for me."