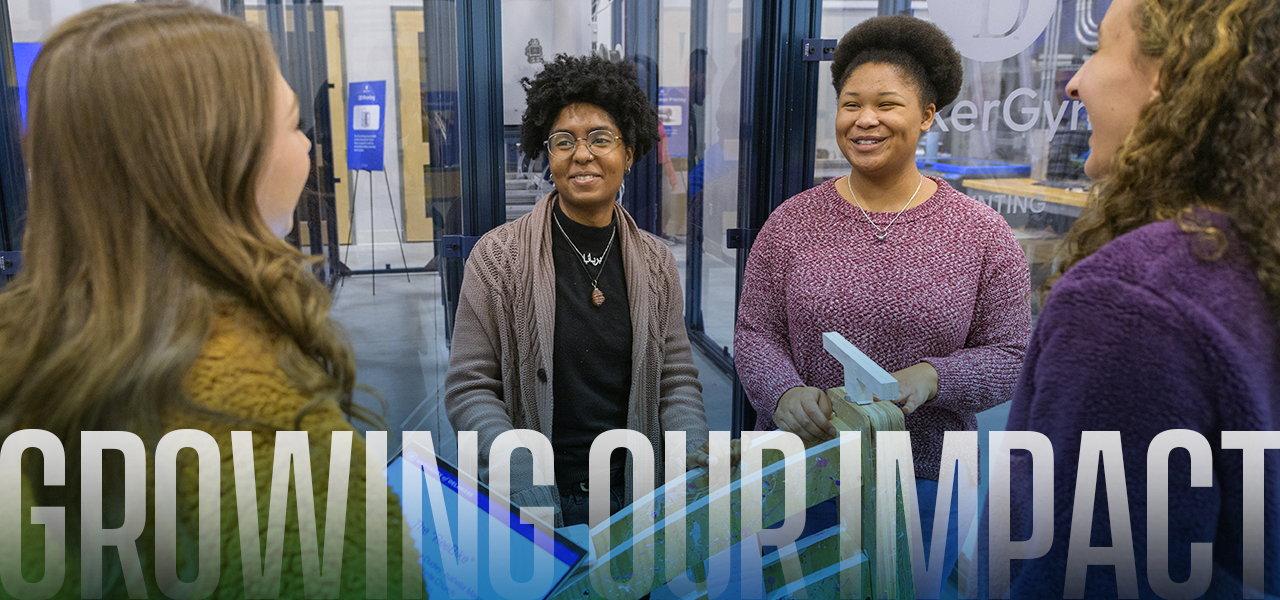 Global Connections

An international pioneer, the University of Delaware is
transforming education to cultivate the dynamic global mindset
that's essential for leadership and success in our rapidly evolving world.
Defining global education … again
With nearly a century of leadership in international education, the University of Delaware is again reimagining what it means to deliver higher education around the world.
Innovative study-abroad programs — like the immersive World Scholars — link UD students to nearly 50 nations, while a growing number of international students are drawn to our vibrant campus culture from more than 80 countries. UD hosts more than 350 international scholars, and we enjoy strong partnerships with academic institutions in 60 nations.
Admissions outreach teams are sharing the UD story with prospective students in dozens of countries, supporting our deep commitment to diversity and inclusion throughout the University.
UD research projects and service relationships extend to every continent to improve lives and shed new light on issues of climate change, history, language, energy and more.
To further strengthen our global network, UD has launched an intensive two-year study with the American Council on Education's Internationalization Laboratory to evaluate, shape and expand our global network to all parts of the world.
Professor Kirkbride's daring idea
Remembering the devastation he witnessed as a World War I veteran, Raymond Kirkbride proposed a bold new program: Studying in another country would instill students with a greater understanding of other cultures and help promote global peace. So, in 1923, the literature professor led eight UD students to France for a year, launching the first study-abroad program in the United States.
Like Josh Bennett in Australia, about

1 out of 3
UD students study abroad.
Josh also completed an 8-week internship with a company in Singapore.
International Undergraduate Enrollment


Bold Entrepreneurs
Fueled by the University of Delaware's collaborative ecosystem, our
growing community of entrepreneurs learns to develop both the imagination
and practical skills to take ideas from spark to start-up and beyond.
---
Solving society's toughest problems

Changing the world takes more than idealism. That's why UD's social entrepreneurs develop the leadership, teamwork, financial management and other skills necessary to improve people's lives.
More than 2,000 undergraduates from 105 different majors enrolled in entrepreneurship courses last year.
Joel Amin and Bryce Fender learned their skills at UD's Horn Entrepreneurship program and then created WilmInvest. The nonprofit renovates dilapidated homes and links tenants and landlords in a partnership designed to benefit the whole neighborhood.
"Many landlords are only interested in an economic return," Fender says, "while we saw an opportunity to realize a social return as well."
Harnessing virtual reality for real-world success

360VR Technology — founded by seniors James Massaquoi, a Delaware Innovation Fellow, and Sury Gupta — creates digital 3D models of building layouts to aid emergency responders.
The company has won more than $80,000 in venture-pitch competitions and is attracting interest from investors and customers.
Turning ideas into action

Students test their knowledge of statics by building wooden bicycles in UD's new MakerGym, an interdisciplinary, open-to-all hub for design and fabrication, featuring 3D printers, laser cutters, water-jet cutters, electronics, a wood shop and other tools.



UD ranks 38th in the nation for undergraduate entrepreneurship programs, according to The Princeton Review and Entrepreneur magazine.
Driven Competitors
Teamwork ... dedication ... perseverance — Blue Hens
devote themselves to excellence, both in athletic competition
and in the classroom.

---
New resource to benefit the total student-athlete


The Whitney Athletic Center, set to open in 2020 outside the renovated Delaware Stadium, will offer academic support, athletic training and wellbeing programs for UD's student-athletes.
It is named for alumnus and Trustee Kenneth C. Whitney and his wife, Elizabeth K. Whitney. "Without question, the four most important years of my life were here at the University of Delaware," Ken Whitney said. "We strongly believe in the positive impact athletics can have across an entire university community and beyond."
Blue Hens develop leadership skills through service

UD's student-athletes are deeply engaged in the community, partnering with nonprofits like Special Olympics Delaware (pictured) to offer sports clinics and build social connections.
In addition, programs like the Building Leaders Utilizing Education program, or BLUE, cultivate tomorrow's leaders among our student-athletes, spirit team members and club sports members. Launched in 2017, BLUE promotes personal success, diversity and inclusion, health and wellness, career preparation and community engagement.
A commitment to excellence

UD's Field Hockey team won its eighth championship title in the Colonial Athletic Association (CAA) tournament, finishing the season ranked #9 in the nation. The Women's Track & Field team also won their CAA championship in 2019. UD's cheerleading, dance and mascot teams also all won national championships in 2019.
University of Delaware 2020 President's Report