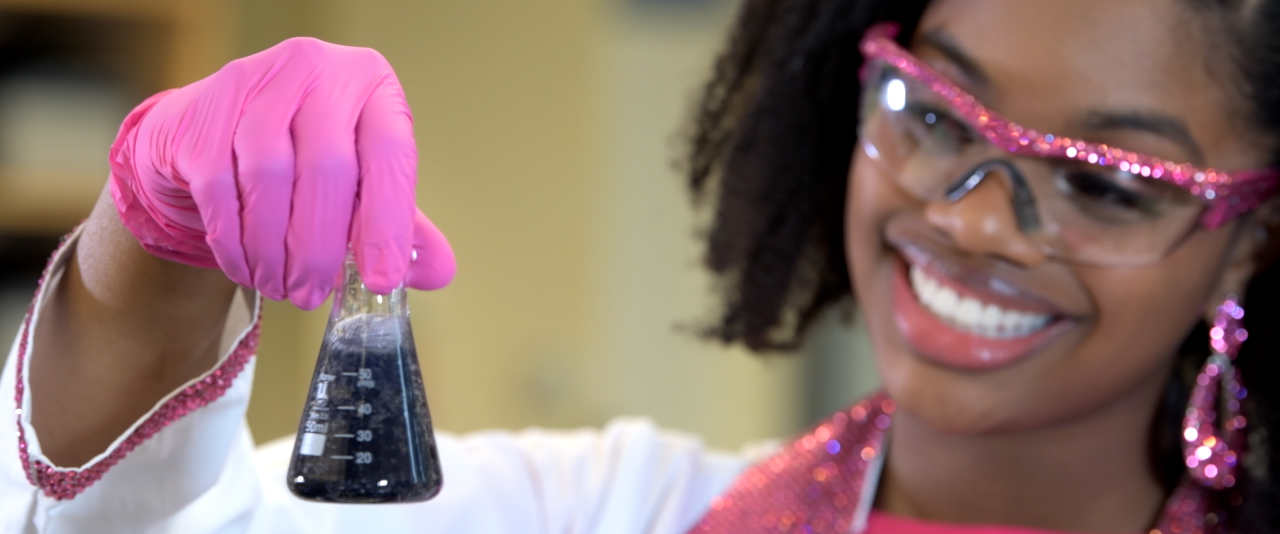 Ensuring the Success
of our Students
A rigorous and purposeful academic experience has always been a hallmark of the University of Delaware, where our students' success is reflected in their accomplishments both in and out of the classroom.
Our vibrant and growing faculty continues to challenge students, while opening new fields of research and discovery. We have redoubled our commitment to scholarly excellence at UD, as well as extending our reach to prepare students before they even apply for admission and serve alumni and adult learners throughout their lives. Read how UD is leading students to success in the stories below.
On-time graduation rate is among nation's highest

The University of Delaware's four-year completion rate is 73% — ranking in the top 10 among primarily residential public universities in the United States. That's because UD commits significant resources — expanded advising services, predictive analytics, modest "success" grants and more — to help get students across the finish line on time.
Honors College elevates UD's top academic program
Launched in 1976, the University of Delaware's Honors Program has challenged thousands of top students to dream bigger, reach higher and achieve more. That same pursuit of rigor and creativity drove UD to form the new Honors College and build an even stronger program in the future.

New dual-enrollment option expands pipeline to UD
All Delaware high school students can now take University of Delaware courses online — for free — to earn up to a full semester of credits. The Early College Credit Program, launched in fall 2020, is the only program in the nation offering high school students such an opportunity that is both statewide and free.
UD to build on successful Associate in Arts Program

The Associate in Arts Program has helped more than 2,000 students over the past decade earn their bachelor's degree from the University of Delaware, providing a critical education pathway for Delawareans.

Teachers of Tomorrow: youtube.com/watch?v=Wy9CQjsMizY
Partnerships strengthen PK-12 education in Delaware
As Delaware's land-grant institution, the University of Delaware is deeply engaged in working with school districts and teachers throughout the state to support public education from pre-kindergarten classrooms all the way to high school graduation.
Artistic expression is core to UD experience

Whatever field students pursue at the University of Delaware, the arts provide them with a creative outlet to understand the world and their place within it.

New programs — a PhD in Neuroscience, an MA/PhD in Education and Social Policy, and a Certificate in Sustainability — are helping to expand the University of Delaware's Graduate College this year.
Several programs created in anticipation of the formation of the Graduate College in 2019 — including an MS in Data Science, the PhD in Microbiology and the Community Engagement Certificate — will now be administered in the Graduate College.

Graduate enrollment at UD has grown 13% since 2016, reaching a record 4,285 in 2020. The University has committed significant resources to attract and support graduate students, including launching the Accelerate to Industry program to link students to career opportunities.
"Since we formed the Graduate College in 2019, we've experienced exciting growth in new students, new programs and new opportunities to make an impact through research and scholarship," said Louis Rossi, new dean of the Graduate College and vice provost for graduate and professional education at UD.
Rankings recognize UD's excellence
Notable rankings include the nation's top Physical Therapy program and the consistently high Chemical Engineering program, as well as UD's online masters' programs in education and online MBA, both of which rank among the top 10% in the nation.
Other notable rankings include:
INSTITUTIONAL
College of Engineering *
School of Education*
Biden School of Public Affairs and Administration*
Military Friendly School, #4 in the nation (VM)
Best of the Best Veteran-Friendly School (USVM)
UNDERGRADUATE AREAS OF STUDY
Business*
Chemical engineering*
Computer science*
Engineering*
Entrepreneurship††
GRADUATE AREAS OF STUDY
Biomedical engineering/bioengineering*
Chemical engineering, #8 in the nation*†
Clinical psychology*
Criminology*
Education policy*
Elementary teacher education*
Environmental/environmental health engineering*
Kinesiology†
Linguistics†
Materials engineering*
Mechanical engineering*
Online MBA** ††
Online master's programs in education*
Online masters' programs in engineering*
Physical therapy (#1 in the nation)*
Public finance and budgeting*
Public management and leadership*
Warner Hall: youtube.com/watch?v=YWZSjLuZYEo
New campus center promotes all aspects of wellbeing
Opening soon, the new Wellbeing Center at Warner Hall will serve as a central hub for health and wellness services and resources for University of Delaware students.

Tour the Whitney Athletic Center: youtube.com/watch?v=Up6C-VeQj60
Whitney Athletic Center supports the whole student-athlete
After nearly two years of construction, the new Whitney Athletic Center opened in 2020 to provide the University of Delaware's more than 600 student-athletes with the academic, athletic and wellbeing support they need for holistic success.
Stronger and more dynamic platforms for education delivery are making the University of Delaware accessible to more people throughout their lives/careers and in more places around the world.
With many more courses being offered online, more non-traditional students are starting their education with UD.
Also, thanks to online course delivery and workforce-relevant topics, certificate programs are reaching more professionals in more states than ever before.
And UD's Osher Lifelong Learning Institute has grown to the largest in the nation in terms of online program offerings. The program has been a boon to socially isolated seniors in Delaware and 12 more states during the pandemic.
12% increase
in continuing-education students since 2019

47
online certificate programs served 13% more working professionals over the past year

217
online programs offered through UD's Osher Lifelong Learning Institute
UNIVERSITY OF DELAWARE
PRESIDENT'S REPORT 2021
The University of Delaware strictly follows all current health protocols, including the wearing of masks and appropriate physical distancing. Some images on this website may have been taken before these rules were implemented.