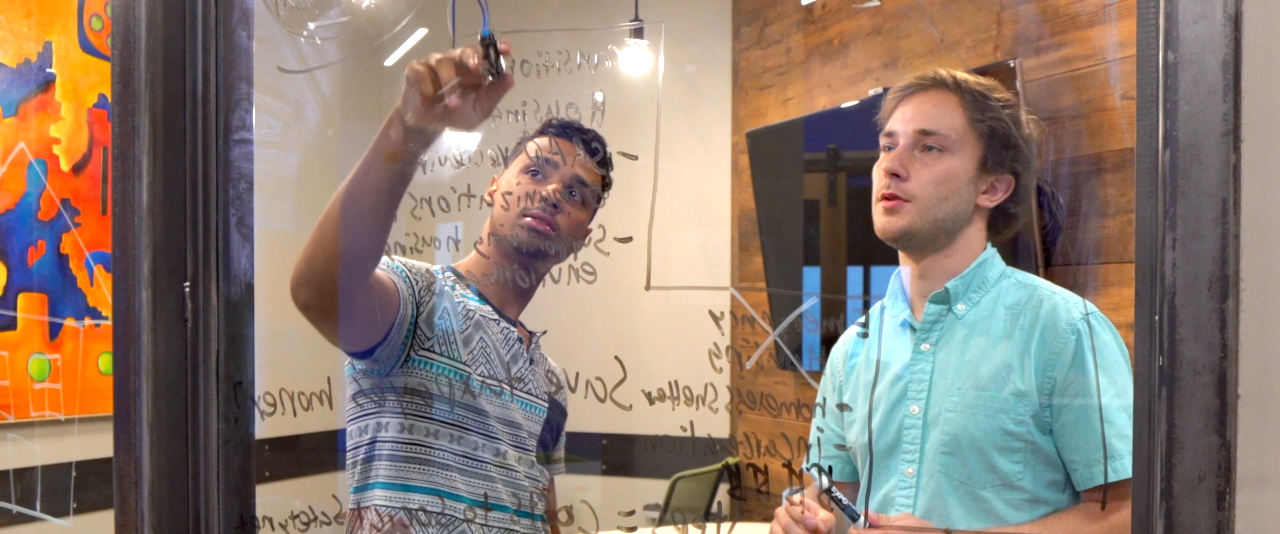 Creating Leaders
for Today and Tomorrow
The University of Delaware cultivates leaders who are thoughtful, inclusive and creative, whether they are working in small communities or on the world stage. Learn more about UD's drive for leadership in the stories below.
Congratulations, President Joe Biden!: youtube.com/watch?v=FvNkDKYM8cM
Blue Hens lead from the White House

Culminating a lifetime in public service, Joseph R. Biden, Jr. (Class of 1965) took his University of Delaware education all the way to the White House to become the 46th President of the United States.
Biden School focuses on solving critical public policy challenges
Imagine any initiative to improve society — in health care, agriculture, transportation, technology, the workplace, schools and more. Now consider how quickly it fails without a clear, fair and feasible public policy to guide its implementation.
UD holds a special place in my heart ... It instilled in me the belief that I could make a difference and inspired me to live a life committed to public service."

Class of 1965
UD holds a special place in my heart ... It instilled in me the belief that I could make a difference and inspired me to live a life committed to public service."

Class of 1965
Two University of Delaware alumni and current leaders were elected to the National Academy of Engineering, a distinction that is among the highest professional honors accorded to an engineer.
Terri L. Kelly — a 1983 graduate, the retired president and CEO of W.L. Gore & Associates, and now vice chair of the UD Board of Trustees — was selected "for leadership in product development and commercialization by advancing management practices that foster innovation."
Levi T. Thompson — who graduated in 1981 and returned to UD in 2018 as dean of the College of Engineering and the Elizabeth Inez Kelley Professor of Chemical Engineering — was selected "for advances in catalysis and energy storage, entrepreneurship and academic leadership."
Seven other UD faculty and faculty emeriti and 13 other UD alumni are also NAE members.
The nationwide reckoning with racial injustice in 2020 led to many difficult but honest and productive conversations in the University of Delaware community, as well as structural changes and a fresh commitment to continue confronting the challenges of systemic bias.
The
UD Antiracism Initiative
grew out of an open dialogue among faculty, staff and students who are passionate about the critical issues of race and discrimination. The effort amplifies and supports the aims of the Black Lives Matter movement and seeks to address the continuing challenges of systemic racism within UD, the nation and the world.
UD student-athletes worked to influence local leaders towards positive change in the areas of police reform and student voter registration. Student-athletes also participated in implicit bias and inclusive language training and created a training curriculum for hosting recruits on campus.
This work is critical to reflecting the growing diversity of UD's student population, as well as its faculty and administrative ranks.
At an institutional level, the University
integrated
its efforts into a central Office of Institutional Equity, Diversity and Inclusion, reflecting a strong commitment to the values that are central to UD's educational mission. The University is also closely examining the naming of buildings and other campus features to ensure they reflect UD's values and historical context.
Becoming a more diverse community
Growth in underrepresented minority undergraduates
Growth in
Pell Grant recipients


Growth in
first-generation undergraduates

UD's global community creates connections with impact
A pioneer in global education, the University of Delaware is strengthening its bonds with the international community, despite the pandemic-imposed limits of the past year.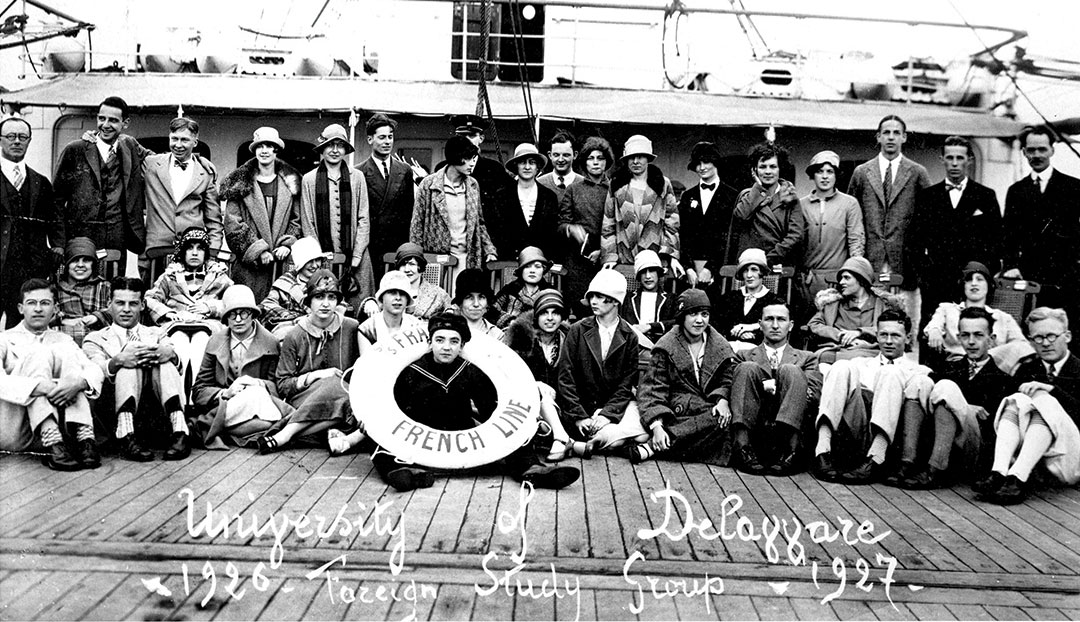 A daring idea from Professor Kirkbride

After serving in World War I, Raymond Kirkbride joined the University of Delaware as a literature professor, but he never forgot the devastation he had witnessed. He believed that connecting
Year UD created study abroaod, the nation's first program
UD undergraduates study abroad before graduation
Countries represented among UD's students and scholars
Entrepreneurship isn't a program at the University of Delaware; it's a mindset ... a way of seeing opportunities where others see obstacles ... an educational ecosystem full of resources and expert mentors to help turn an idea into a workable business or social venture.
"The opportunities at UD are unparalleled," said Sury Gupta, who launched a growing virtual-reality company with a classmate while earning his bachelor's in engineering with a minor in entrepreneurial studies. "Students are encouraged to explore beyond your majors and traditional career paths to find out what you are truly passionate in and develop the key fundamental value-adding skills to succeed in virtually anything you want to pursue."
UD's award-winning Horn Entrepreneurship initiative is the creative engine for this community and a big reason why UD ranks among the top 50 schools for undergraduates to study entrepreneurship, according to The Princeton Review.
One of the newest additions to Horn is the Siegfried Initiative for Entrepreneurial Leadership. This highly selective year-long experience helps students broaden and deepen their understanding of leadership while serving in their community.
"The more opportunities I get to be in leadership positions, the more deeply rooted I want to be in a collective, shared vision that makes a positive impact," said senior April Singleton, a Siegfried Fellow and cofounder of the social venture EQuip.
Also, Horn's Diamond Challenge draws more than 10,000 high school students from around the world to pitch their ideas in a competition for $100,000 in start-up money and resources. UD's undergraduates can major in entrepreneurship, while the Delaware Innovation Fellows program incorporates entrepreneurial skills for students in any major. Pitch programs like Hen Hatch give budding entrepreneurs a chance to secure funding for their ideas, and the Venture Development Center brings together inventors and innovators for collaboration.
in grants, awards and competition winnings for student and alumni ventures in 2019-20

hours of mentorship donated to students



undergraduates from 105 majors enrolled in entrepreneurship courses


Science-based start-ups and growing companies are finding fertile ground for their businesses at the Delaware Innovation Space, a joint initiative of the University of Delaware, the State of Delaware and DuPont, as well as nearly two dozen other partners.
The incubator provides premium wet-lab space, modern equipment, offices, business expertise, acceleration support and access to funding on the grounds of DuPont's historic Experimental Station near Wilmington. New programs this year include Science Inc., a cohort program to build businesses, and Spark Factory, a mentoring program for improving business concepts. Also,the First Fund invests up to $150,000 per start-up to get new companies off the ground.
Since its launch in 2017, Delaware Innovation space has supported more than 40 companies, which have raised more than $500 million in start-up funding and have created or retained more than 250 jobs.
Serving others is one key to effective leadership, so University of Delaware students are deeply engaged in meeting the needs of their communities. One example is Lori's Hands.
Launched in 2010 by UD students, Lori's Hands pairs students in health-care majors with people in the community coping with chronic diseases.
Students typically help with grocery shopping, meal preparation, light cleaning and other tasks, while the client teaches them about the daily realities of their condition. With about 350 students and 150 clients, the program has adopted more virtual and distanced activities during the pandemic.
The program has been such a success in Newark that it is adding a Baltimore chapter with Johns Hopkins University and a Detroit chapter with Eastern Michigan University.
"What's so exciting for me is hearing about the personal relationships that develop between students and clients," said Liz Bonomo, a co-founder of Lori's Hands who lives in Baltimore and is helping with the new chapter. "Now, there's so many relationships between students and clients. It's almost become like a second family."
Also, UD student-athletes have continued to engage virtually with the Boys and Girls Club Wowzers program, serving as mentors to children at clubs throughout Delaware.
Jack Stone
Studying the impact of climate change on Antarctic sea ice "feels important and relevant to our lives here in Delaware, despite Antarctica being so far away. [The impact] could affect conditions all the way here in Delaware, especially with regards to issues such as global sea level rise."
Alice Amitrano
"My research focuses on 3D printing biobased materials derived from lignin, a complex polymer in the cell walls of plants that makes them rigid and woody. Our society needs renewable polymers to reduce the world's dependency on petrochemicals."
Alexis Edmonds
"I am developing creative learning modules to expand a student's thinking and engage them in real life prompts. Social issues and racism are easier to communicate to children through poetry, song, dance, etc."
Victor Ramirez Delgado
"I've been studying a red giant star called Gamma Draconis. I'm analyzing data to describe what's happening on its surface, which could help us sift out natural wobbles and spot planet-caused wobbles more easily. That could help us discover planets we aren't even aware of yet in other solar systems."

Drew Huffner
Working with Engineers Without Borders, he is studying the structural integrity of an aging bridge connecting a Malawi village to a hospital and a market. "Without this bridge, the community would be disconnected from necessary services. The fact that my research can affect real people and become tangible is really inspiring and motivating."
Cara Lamberty
"I am measuring the length of sharks from digital images using laser photogrammetry, a technique that combines underwater photography with laser pointers. Determining their measurements each time the same shark returns to a location can inform growth patterns and which individuals are mature."
UNIVERSITY OF DELAWARE
PRESIDENT'S REPORT 2021
The University of Delaware strictly follows all current health protocols, including the wearing of masks and appropriate physical distancing. Some images on this website may have been taken before these rules were implemented.