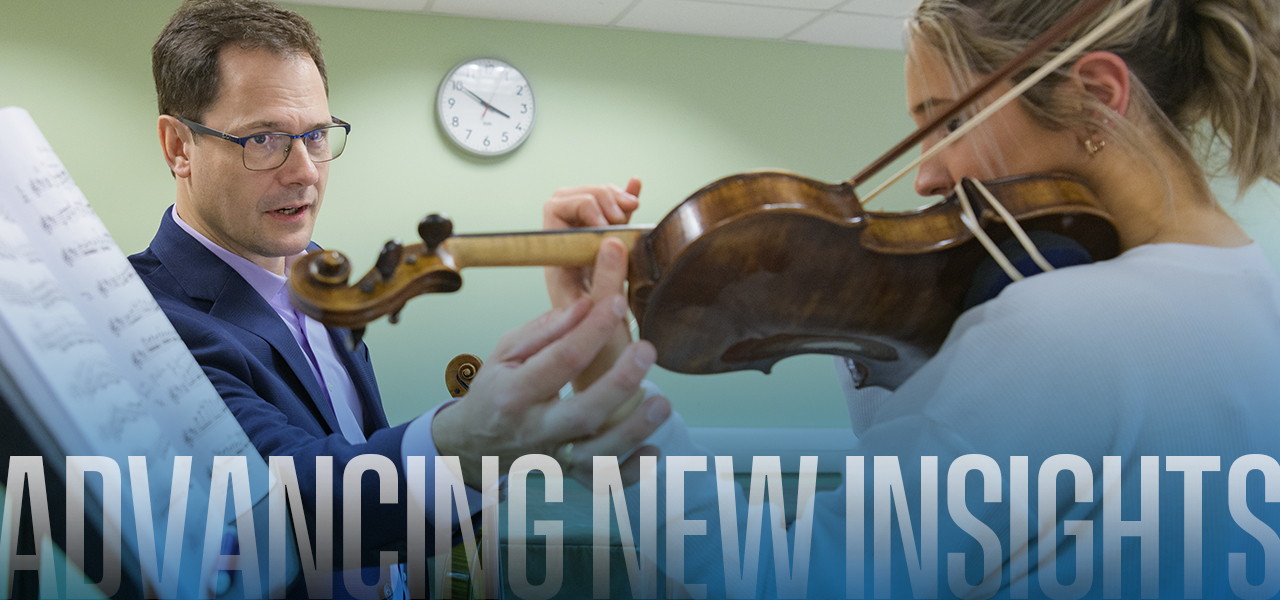 Research & Discovery
At the University of Delaware, we are expanding the scope
and reach of our research to improve health and mobility, fuel our
economy while protecting our environment, and create new insights
and innovations for the betterment of our world.
---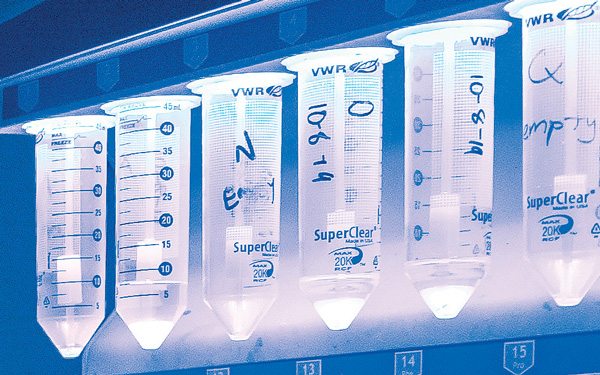 'Bundlemers'
enable new materials
UD researchers Chris Kloxin and Darrin Pochan, along with their partners, created rigid, self-assembling, customizable polymer chains by linking new fundamental building blocks called "bundlemers," a term coined at UD and described in the journal Nature.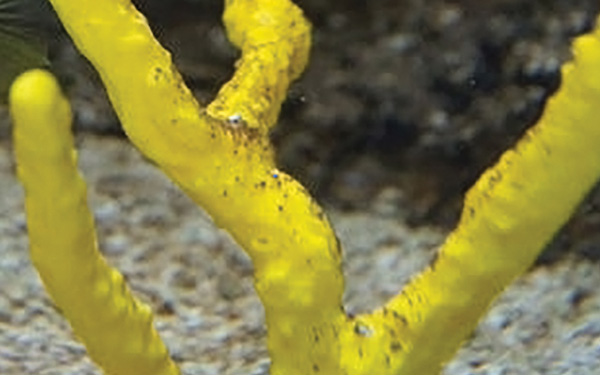 3D-printed corals may
help ocean reefs
Damselfish are unfazed by artificial corals, offering new ways to restore reefs that are endangered by natural disasters and climate change, UD researcher Danielle Dixson found. Corals made from biodegradable cornstarch can be effective, too.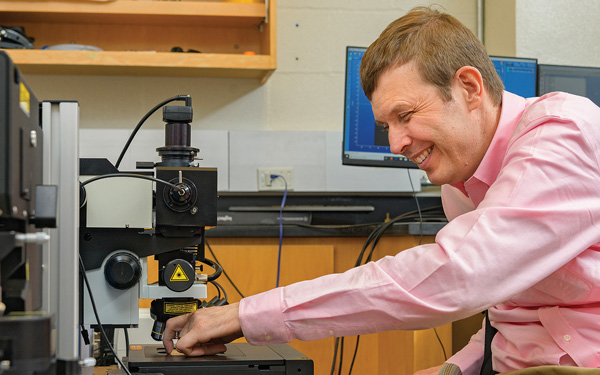 Powerful microscope
reveals incredible detail
UD's new atomic force-Raman microscope lets scientists like Karl Booksh see objects 10,000 times smaller than the diameter of a human hair, driving research in engineering, art conservation and physical sciences.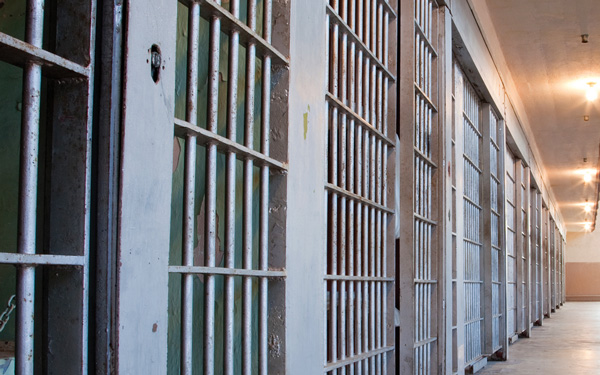 Shining a light
on prison reform
Working on the new Prison Research and Innovation Initiative, Christy Visher and Daniel O'Connell are studying prison conditions and helping to make them more humane, safe and rehabilitative.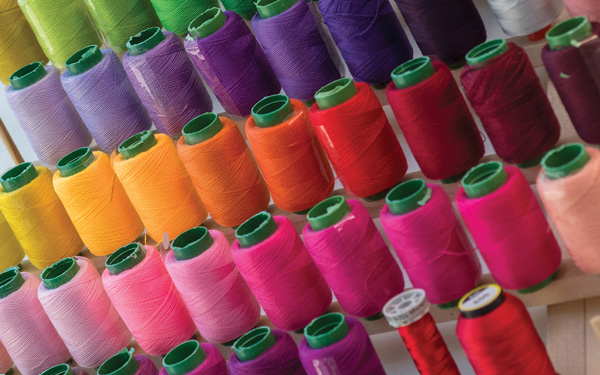 Functional fashion changes lives
Designed and made by cross-disciplinary teams at UD, garments and exoskeletons that are lightweight, attractive and comfortable give children with different abilities both physical mobility and the freedom to explore and grow.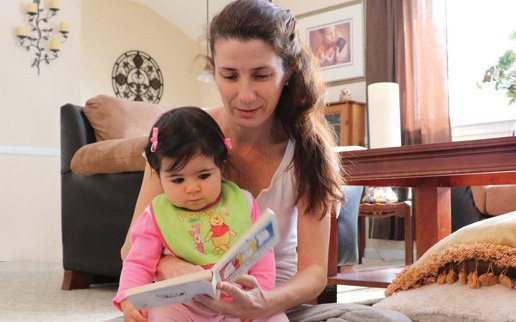 Native-language reading
key to English learning
Kindergartners with strong early reading skills in their native Spanish become better English readers in elementary school, UD researcher Steve Amendum and his partners found.
Externally Sponsored Research
UD's research enterprise puts us among the top 3% of institutions nationwide.

The University of Delaware is a primary institution in two Manufacturing USA initiatives:

The National Institute for Innovation in Manufacturing Biopharmaceuticals (NIIMBL)
headquartered at UD
The Rapid Advancement in Process Intensification Deployment (RAPID) project,
working to boost energy productivity and efficiency while decreasing environmental impacts
Arts & Enlightenment
As a fervent champion of imaginative expression,
the University of Delaware is designing new avenues for
artistry and its widespread enjoyment.
---
Celebrated painter explores racial tensions

Award-winning artist and professor of painting Peter Williams has been inducted into the prestigious National Academy of Design
as a National Academician to serve as an ambassador for the arts in America. "I've always believed in the idea of bearing witness to the times in which you live," he said.
Portraying history through modern dance

UD is unleashing the power of performance art to expand understanding and appreciation of our common human bonds. For example, a production led by professor Lynnette Overby dramatizes the life of Mary Ann Shadd Cary, an African-American woman born in Delaware in 1823 who became an abolitionist, lawyer, editor, educator and suffragist. Performed by students and community members, the work is part of a series exploring the past through dance, poetry and music.
Elevating the stature of UD's music program

The new School of Music reflects our commitment to achievement in the arts through more student scholarships, an expanded faculty and new performance ensembles. Among the accomplished musicians drawn to the School of Music is Guillaume Combet, a devoted violin teacher and international performer who joined the UD faculty in 2019.
Performances and exhibits by UD's theater, dance, music, art and design programs reached

more than

50,000 people

throughout the community last year.
Community Engagement
Propelled by our rare combination of Land Grant, Sea Grant and Space Grant missions,
the University of Delaware is energizing strong partnerships
to drive new solutions to the most vexing challenges facing our society.
---
Wellness program pairs vets with student-athletes
Created by former Army nurse and now UD professor Susan Sheehy, the Veterans and College Athletes Together (VCAT) program links veterans and student-athletes for a 12-week fitness regimen that promotes reintegration into civilian life. Twice-weekly sessions cover nutrition, personal finance, spirituality, workouts and coaching. "VCAT helped get my brain and body in a place where I could function again," said Delaware National Guard retiree Fred Cost.
Oysters return to Delaware waters
UD's Delaware Sea Grant program helped revive the state's shellfish aquaculture, bringing oysters back to Rehoboth Bay for the first time in more than 30 years and helping to create the Inland Bay Oysters brand.
Roving playgrounds strengthen neighborhood bonds
Play Streets, a service-research partnership between UD and community groups, offers safe places for families to connect in distressed urban areas.
UD is engaged in hundreds of community partnerships, including more than 350 with nonprofits and schools throughout the state to improve K-12 education.
University of Delaware 2020 President's Report