Markell talks tech in his remarks about the year ahead
Markell highlighted the technology sector in his remarks, noting the increase in jobs available in IT and data analytics, banks or at one of Delaware's new startups. He also applauded the University of Delaware's STAR Campus for employing residents in the fields of healthcare, manufacturing and tech. Read More >>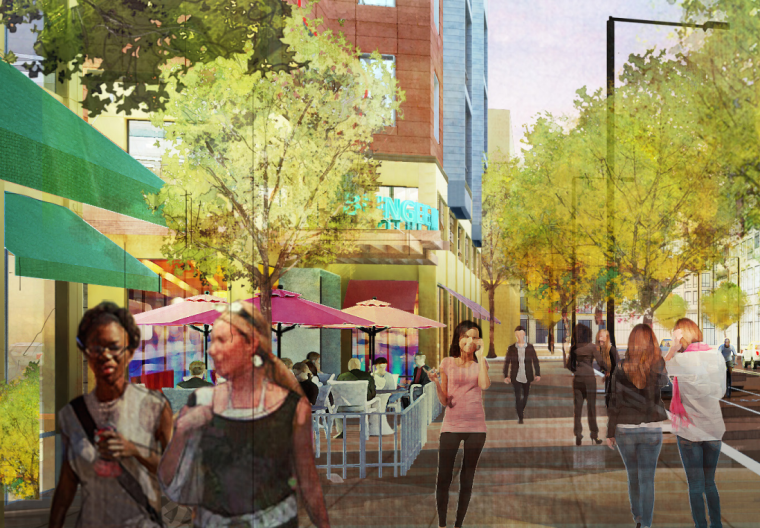 UD officials lay out plan for urban-inspired STAR Campus design
Professors and researchers disembark regional rail cars at the Newark train station and walk down a tree-lined promenade to get to work. Scientists from different disciplines mingle in parks and sidewalk cafes. Students work alongside professionals on cyber-security and other high-tech projects.
That's the ambitious vision for the STAR Campus that University of Delaware officials laid out last week. Read More >>
About the Health Sciences Complex
The University of Delaware has set the stage for the Science, Technology and Advanced Research Campus (STAR Campus) to be a center of innovation that will continue to evolve over the next half a century. The site's activities and tenants focus on science, technology, engineering and clinical practice in areas ranging from biomedicine and biotechnology to alternative energy and environmental sustainability.

In 2014, the Health Sciences Complex opened on the STAR Campus, and UD's College of Health Sciences is the first tenant to occupy the renovated building, not only providing the front door to the site but also setting the stage for the campus as a vibrant healthy community by design.  The facility is fostering community connections, interprofessional training of healthcare professionals, and collaborative research between faculty and clinicians.

The first building houses the Nurse Managed Health Center and the Delaware Physical Therapy Clinic, both of which are open to the public.  In addition, the facility contains high-tech meeting spaces and state-of-the-art core labs for research and education in areas including muscle performance, gait analysis, anatomy, pediatric mobility, cardiovascular disease, biochemical and biomarker analysis, and orthopedic rehabilitation. The site is also home to the Delaware Rehabilitation Institute and the Delaware Health Sciences Alliance.

Tenant space will be available at an annex for companies whose areas of business complement the mission of UD's College of
Health Sciences.

Need space for an event? Email us at hsc-events@udel.edu today!